Nigeria's Aviation Manpower: Changing Times, Changing Strategies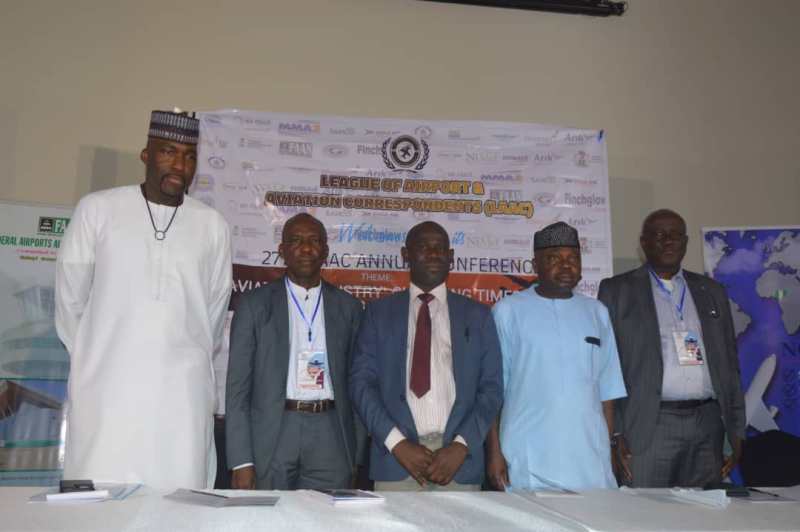 "We definitely need to do things differently if we expect Nigeria's aviation industry to realize its full potential in Africa and the world, a feat that the location of the country has already positioned it to achieve, but for avoidable human factors."
These were the words of the Chairman, League of Airport & Aviation Correspondents (LAAC) Mr. Olusegun Koiki in his welcome address at the 27th LAAC Annual Conference & Awards held at Providence Hotel, Lagos last Thursday under the theme, Changing Times, Changing Strategies.
Koiki said this year's conference was informed by the emerging changes in approach to aviation business as regards technology, manpower development and training, airline management and operations, financing and other aspects of the aviation industry.
Permanent Secretary, Federal Ministry of Aviation & Aerospace, Dr. Emmanuel Meribole who was represented at the event said "the theme is apt, as it captures the dynamics of change in the aviation industry and the giant strides made in the sector in Nigeria within the life span of the immediate past administration."
The Director General, Civil Aviation, Nigeria Civil Aviation Authority (NCAA), Capt. Musa Nuhu stated in his keynote speech that "the airline industry in Nigeria, which currently contributes over $1.7 billion as well as supports over 240,000 jobs directly and indirectly, transformed to a more competitive market following its deregulation for a couple of decades ago," adding however that "the world itself is dynamic just like any other human endeavours including aviation. As time changes, so are strategies to be deplored."
"Over the years, we have had appointments in the industry made on the basis of patronage. This amounts to putting square pegs in round holes. We have seen that over the years. So, I think we need to start from there. We cannot expect to do things the same way and expect a different result," said Mr. Roland Iyayi, Managing Director, TopBrass Aviation, while speaking during the panel session of the programme.
"Our agencies today are overstaffed. When an agency's mandate is technical and the bulk of staff is support, it is wrong," he said.
Chairman of the occasion and Director General of Nigeria Meteorological Agency (NiMET), Prof. Mansur Matazu said in his remarks that "the industry therefore requires strategic long-term planning and innovations in relation to aviation business or economics, manpower management and competencies." He further noted that NiMET personnel "are highly skilled, competent, and re-trained regularly to provide aeronautical meteorology services."
The Managing Director of Nigerian Airspace Management Agency (NAMA), Tayib Odunowo in his contribution said his agency was already adopting four prong points in tackling the challenge of shortage of Air Traffic Control personnel.
"We have brought some people back right now that are actually retired because of the years in service rather than age. These are people who still have a lot of fire power in them. So, we have brought them back.
Secondly, we have recruited 100 controllers now and we have started training. The challenge we are having is space constraint in NCAT. So, we have had an MOU with the Rector of NCAT. So they are going to do a hybrid.
Thirdly right now, we are working with the military. The military also has a school where they train controllers. They expressed interest in helping us. Then, lastly, we are bringing in an organization to train our controllers to get all their classes of licenses in six months. So, we have a four-point approach that we are working on to quickly close the gap," Odunowo said.
Last year, former Accident Investigation Bureau (AIB) became Nigeria Safety Investigation Bureau (NSIB) after the Act was passed, expanding the scope of the agency's responsibilities to go beyond investigation of aviation incidents and accidents and extending its coverage areas to other modes of transportation.
Director General of NSIB, Engr. Akin Olateru says efforts are already being made to deliver on the agency's new mandate by implementing modern training and succession programmes for personnel
"Since 2018, we started training all our investigators on the three modes of transportation. Even myself, I have been trained in Cranfield University on air, rail and maritime accidents," he said.
"Number two, some personnel will be required because if you are talking of training; rail for instance, there are some specific personnel that would be required to join our investigators. In maritime as well, we need some specific hands in that area. Basically, in human capital, yes!."
In his presentation titled "Funding Manpower Development In The 21st Century, Olateru identified lack of a clear vision to drive manpower development, scarcity of resources, limited budget allocation for training and development, lack of awareness about the long-term benefits of investing in human capital, difficulty in quantifying the return on investment (ROI) for training initiatives and balancing immediate operational needs with long-term development goals, as challenges facing manpower development in the country's aviation sector.
"Therefore, allocating resources for manpower development requires careful planning, prioritization, and a commitment to continuous improvement after a thorough and systematic gap analysis and needs assessment have been done," he said, adding that effective manpower development is crucial for organizations to carry out an effective succession plan, adapt to technological advancements and remain competitive in the global market.
"In the 21st century, knowledge and skills are the currency of success. Organizations must invest in their workforce to build a resilient and agile workforce. Funding manpower development ensures that employees are equipped with the necessary competencies to address current and future challenges," said Olateru.
He further explained that "in the dynamic landscape of aviation, it is essential that we stay ahead of the curve by identifying and addressing the gaps in our manpower development. By conducting a comprehensive gap analysis and need assessment, we can identify the strategies required to adequately fund and nurture the talent pool within our organizations." He said "conducting a thorough gap analysis enables us to identify the disparity between the current state of our workforce and the desired skill set needed to meet the challenges of the 21st century. This analysis should encompass both quantitative and qualitative aspects, taking into account factors such as the number of skilled personnel, expertise in emerging technologies, proficiency in regulatory compliance and the organization's succession plan."
According to him, the need for a succession plan cannot be over emphasized. "Companies must go beyond mere regulatory compliance to putting in place a robust process that would chaperon an effective and non chaotic change of leadership or ownership in the future. This would involve recognizing employees who merit career advancement and developing them to assume new roles within the company."
Once the gap analysis and need assessment are complete, we can develop strategies to bridge the identified gaps and adequately fund manpower development to meet both your succession plan and manpower development needs.
He highlighted strategies for manpower development as strategic alignment, budget allocation, learning and development programmes, talent management and succession planning, collaboration with external partners and measuring Return on Investment (ROI).
The benefits of funding a systematic and succession plan led manpower development according to Olateru are leadership pipeline, which includes creating a pipeline of capable individuals who are well-prepared to step into key positions when vacancies arise, thereby reducing the risk of leadership gaps and ensuring a smooth transition during succession planning; succession preparedness, knowledge transfer, talent retention, adaptability and flexibility, increased productivity and performance, enhanced safety and compliance and increased innovation.
"In conclusion, funding manpower development in the 21st century is not just an expense, but a strategic investment in the success of our organizations," said Olateru.