Jabiru Aircraft Crash: Stop Speculations On Causes, Says NSIB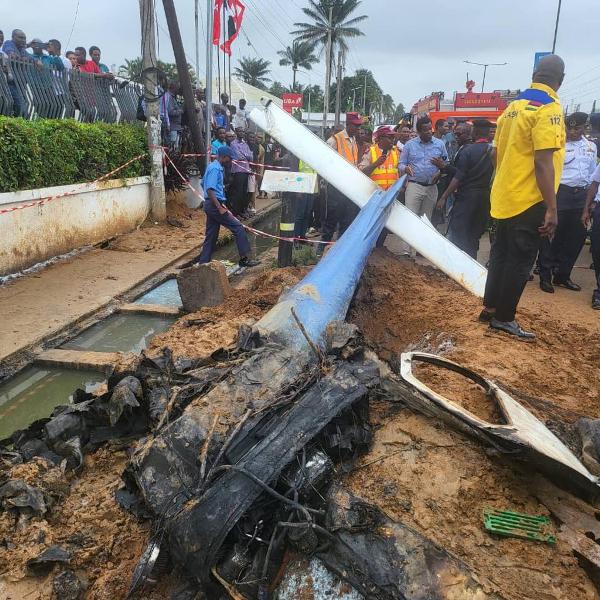 The Nigerian Safety Investigation Bureau (NSIB) has asked stakeholders and professionals in the country's aviation industry to desist from speculations and making comments on the ill-fated Jabiru J430 aircraft, which occurred at Oba Akran area of Lagos on Tuesday.
Mr. Tunji Oketunbi of the NSIB in an interview with aviation journalists in Lagos, insisted that it was unprofessional to make categorical statements and comments on the cause of a serious incident or an accident when the investigators were yet to make their findings public. He was particularly peeved by some statements attributed to some of the professionals in the sector on the accident, which involved two pilots.
He explained that as professionals, they ought to know the rules guiding accident reports and standards and recommended practices stipulated by the International Civil Aviation Organisations (ICAO).
He explained that ICAO Annex 13 outlines the processes leading to the conduct of an accident investigation, stressing that it says that preliminary report should be released within 30 days of the occurrence and final report within 12 months of the occurrence following the completion of investigation. He assured that NSIB, as usual, would carry out a thorough investigation on the accident and release to the public workable recommendations to prevent recurrence.
Oketunbi warned that such speculations may ridicule the image of the country in the comity of nations and appealed to commentators on the accident to wait for the outcome of its investigation before going to the public with their personal opinions.
He said: "People should stop all these insinuations about the immediate or remote cause of the accident. Whosoever that owns the aircraft involved in the crash doesn't matter. This is an aviation industry, and we must not be seen to be commenting from the position of ignorance. Aviation is highly regulated, and we adhere to the standards and recommended practices of ICAO, which is the minimum.
"Everyone should wait for NSIB to commence its investigation, come out with its preliminary and final reports, which we believe will prevent a recurrence. People should allow us to do our job. We cannot be influenced by emotions or speculations that are currently in the public space. As usual, we will be professional with our investigation and reports."
Oketunbi also urged the media to desist from publishing inaccurate reports on the crash.
It could be recalled that a Jabiru J430 light single engine aircraft with the registration number: 5N CCQ had crashed at Oba Akran in the afternoon of Tuesday on its way to Ibadan for a test flight.