Why We Had Nationwide All Female ATC Crew, By Planning Committee Chairperson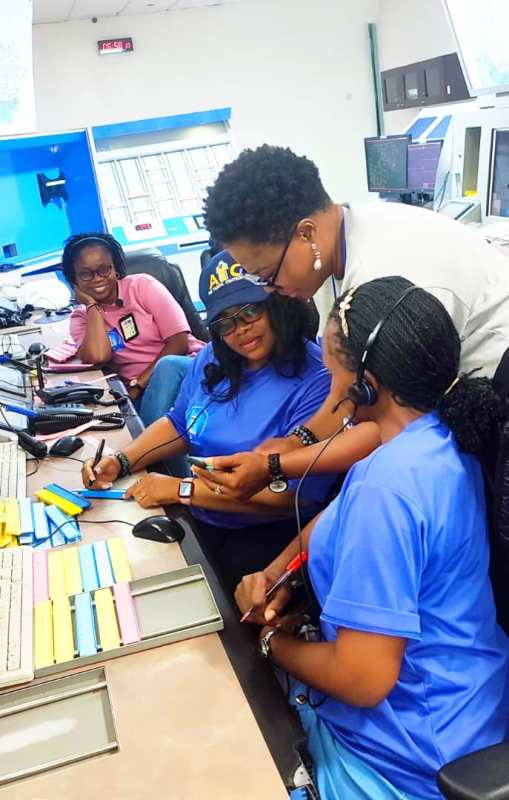 The Chairperson of the Planning Committee that facilitated the making of history on October 20, 2023, having an all female Air Traffic Control (ATC) Crew taking charge of Nigeria's control units nationwide including Area, Approach and Terminal Control, Mrs.  Kate Nnanna-Ibemgbo, who is Deputy General Manager, Air Traffic Management (ATM), Nigeria Civil Aviation Authority (NCAA) says the motivation was to demonstrate unity and show the trajectory of how things happen in other climes.
Speaking further on motivation for the event held as part of activities to mark the World Air Traffic Controllers Day, she said; "As you can see, today it is an all female crew across the nation simultaneously. So that shows that unity in doing things together. So we just thought it wise to come together and do something that would show the trajectory of how things happen in other climes."
"We thought of a situation where we could come together and pool our individual strengths to have a collective strength and do what we know would project the core values of ATC in Nigeria, but to also show that in our profession there is actually a very big presence of inclusion. There is diversity, but at the same time there is inclusion. So there is synergy between the male and the female counterparts," she stressed.
The initiative was the brain child of most of the senior female Controllers with Mrs. Hauwa Danboyi leading the pack by taking it up to the management to get the approval. Mrs. Nnanna-Ibemgbo was then charged as the Planning Committee Chairman together with her indefatigable committee members who saw to it that the epoch-making event was a reality. The unique event was muted with the aim of promoting inclusion and diversity in the ATC profession in Nigeria as well as to celebrate women working in the profession.
Sharing her thoughts on the milestone achievement, Mrs. Ekeada Doris, DGM, Technical Evaluation and Manpower Development, Nigerian Airspace Management Agency (NAMA) said, "This day makes me very proud because when I joined ATC in 1998, we were six (6), and now we are almost fifty (50).  So I am very proud that we have enough ladies to occupy all the positions all over the country today. It is not just in Lagos, Abuja, Port Harcourt, we have Calabar, and we have Enugu. So ladies are in every station. It shows that what a man can do, a woman can also do.
"ATC is a male dominated profession and because of all the challenges involved and the stress. ATC is the most stressful job in the world and as women, we have our families, our children, we are mothers; so for us to be able to do what the men are doing alongside all our other responsibilities, it is fantastic. For the upcoming generation, my message to them is that the sky is just the beginning. There is nothing you cannot accomplish. ATC is a proud and great profession," she added.
Mrs. Atinuke Stanley-Kafu, a First Officer with Air Peace spoke on the uniqueness of this important milestone. "It just means that times are changing and it is very inspiring for me. Even on normal days when one or two ladies are on the radio, it's very respectful to hear another woman on the other side doing her thing and doing it excellently well; and I think this is an opportunity for other women who are coming into the aviation industry to be inspired as I have been inspired by other women who were there before me.  This is an amazing day for all of us," she enthused.
The celebrations ended on a high note with the ladies encouraging each other to gear up for bigger responsibilities with a commitment to keep inspiring the next generation of ladies and girls not just Aviation, but across all other professions.