Prioritize Tourist Attractive Events In Funds Allocation, Ikechi Uko Tells Nigerian Government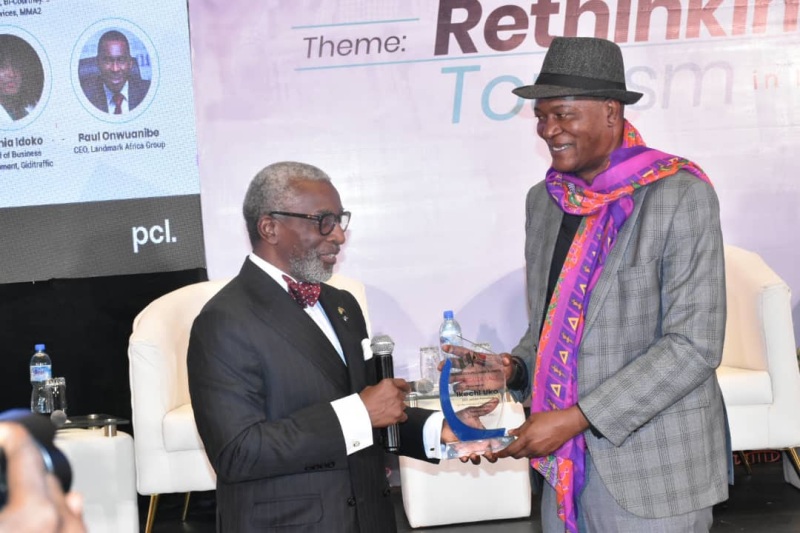 Mr. Ikechi Uko, a renowned travel expert and organizer of Akwaaba West Africa's largest trade exhibition event has criticized the allocation of government funds to events that do not bring in any tourists either from abroad or Nigeria, while ignoring those that have proved to contribute to tourism growth.
Speaking as Guest Speaker on the topic "Rethinking Tourism In Nigeria," at the Nigerian South African Chamber of Commerce Breakfast meeting sponsored by Philips Consulting as part of its 30th anniversary, Uko proposed three ways to rethink tourism in Nigeria. Quoting Fareed Zakaria of CNN, he said Nigeria should stop doing stupid things, start doing smart things and plan for the future.
He urged a shift in priorities, encouraging the government to recognize and support private sector efforts that have successfully ignited domestic tourism in Nigeria over the past four years. While Nigeria is a giant in outbound tourism, Uko highlighted the need to address the challenges faced in the inbound category and emphasized prioritizing support for globally recognized events like Afro Nation, Detty December, AFRIMA, and Experience by House on the Rock to achieve tourism goals using music.
"Nigeria is a global giant in outbound Travels spending over $1.5b buying tickets and over $2b on medical tourism it is a dwarf on inbound and domestic tourism. This has to change." "The government has for a long time ignored private efforts to grow domestic tourism. Private sector efforts have not received government support in the last 4 years but have been largely successful in igniting interest in tourism in Nigeria. Both the Federal and State Governments should support projects that grow domestic tourism."
Furthermore, he suggested leveraging religious tourism through events such as the Osun Osogbo festival, Synagogue of Church All Nations events along with mega churches that draw visitors. He also proposed promoting cultural events like the Eyo Festival, New Yam Festival, Bini Igue festival, Argungu Fish Festival, and Durbar Festivals. Carnival Calabar he said is successful because it is contemporary in nature and has a mass appeal globally.
To further boost tourism, he recommended building on the success of the Nigerian movie industry by establishing Nollywood Villages and creating theme parks based on popular movies. Lagos nightlife is rated as the best in Africa competing only with Johannesburg in South Africa and should be a major draw. Nigeria should market this in the right places. In conclusion, he urged a new thinking that would, organise the industry by appointing people who know tourism and are enthusiastic to work for the industry, develop strategies for the development and growth of the industry, start marketing in the right markets, specialize and dominate identified niches. The last 20 years he said, shows that the most important thing to change tourism in Nigeria is appointing the right people to lead the industry. Without doing that, outbound travels that is driven by profit only will continue to dominate tourism in Nigeria.
He highlighted the historical lack of government support of private sector efforts to drive domestic tourism, emphasizing the crucial role played by private firms and a select few states in this regard. He underscored the importance of government support for domestic tourism using the highly successful Kenya Tourism Board's Tembea Kenya as an example. He listed The South African Tourism Sho't Left project as another one.
He specifically mentioned the positive impact created by projects such as Naija7Wonders, Nigeria Tourism Lovers, Goge Africa and Naija Explorers, which have been at the forefront of driving domestic tourism growth, with states like Cross River, Osun, Lagos, Akwa Ibom and Ekiti actively participating. He pointed out that a survey of the Top 10 Domestic destinations included those states with Akwa Ibom joining for the first time in 2022 as a result of Naija7Wonders and NATOP AGM. He identified the reasons why Nigerians travel using data on passenger traffic from Nigeria over the past years. The data he said is sourced from NCAA, NBS, NANTA and the top 5 travel agents in Nigeria shows that VFR, religion, business, school, leisure, M.I.C.E, Medical and 'JAPA ' are the major reasons for travels to the top destination of UK, USA, UAE, Saudi Arabia, Canada and India.
Uko talked about the potential of leveraging the global success of Nigerian artists in the music industry to enhance tourism. He noted that Nigerian music has become widely popular across African countries as it is the most streamed Music in most African countries except in some South African countries and the government should seize the opportunity to promote the country as a tourist destination. Rema he said played at the Ballon D'or Awards, Burna Boy played at UEFA Cup Finals, Davido played at World Cup finals, Tems played at NBA all Stars and Tiwa Savage played at the Coronation of Kings Charles. These are powerful endorsements that can be parlayed into wonderful tourism products.
Critical to the success of domestic tourism, the tourism Expert emphasized the need for the government to ensure the safety of citizens and visitors, make the available Infrastructure effective and efficient and support Meetings, Incentives, Conferences and Exhibitions (MICE) events capable of attracting tourists, especially from abroad.