AWA Commits To Raising Performance Bar As It Celebrates 4 Millionth Passenger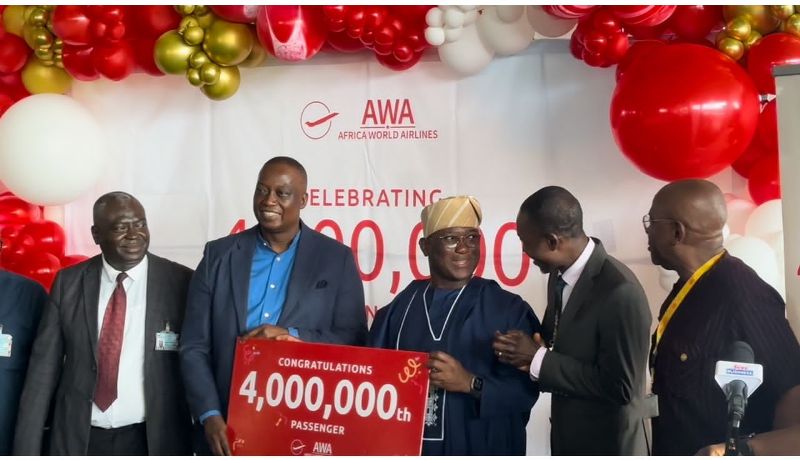 The Chief Operating Officer of  Africa World Airlines, , Capt. Kwasi Oteng says the airline is committed to raising the bar of its service delivery even higher, as it celebrates its 4 millionth Passenger since inception in September 2012.
Delivering his opening speech at the celebration that was done at the Kotoka International Airport in Accra, on October 31st, 2023, Oteng said that "the 4 millionth Passenger is not just a statistic. It is a symbol of the trust, support, and relationships that have been built over the years. This milestone is a testament to our commitment to excellence, and it is the beginning of a new chapter in our airline's journey."
Captain Oteng added that, "the journey to 4 million passengers has been incredible, but there is still much more to achieve. We are committed to raising the bar even higher, delivering unparalleled service, and creating more magical moments for our passengers."
Mr. Rodney Olusola Adewole, the 4 millionth Passenger who was checked in at Murtala Muhammed International Airport – Lagos, received a resounding welcome at the T3 arrival of the Kotoka International Airport. He was presented with AWA's miniature aircraft and four return tickets to any of the airline's destinations.
The Deputy Minister for Transport, Hon. Alhaji Hassan Suleman Tampuli, took turn with a keynote address. He expressed that AWA consistently in operation has led the company to be the leading airline with the highest market share in Ghana. He added that, Ghana has signed to a Single African Air Transport Market (SAATM) which will help reduce taxes when travelling by air to African countries therefore AWA should capitalize on the agreement to improve connectivity in the African region. This led Hon. Alhaji Tampuli to urge AWA to acquire more fleet, increase frequency and also expand its networks.
The awardee speaking at the mini durbar organized to welcome him at the arrival hall of Kotoka International Airport, said the acknowledgment came to him as a surprise. He mentioned that he frequently flies and have flown with the airline 18 times since the beginning of the year due to the reliability and adherence to safety standards.
Gracing the occasion was the Deputy Director General of Ghana Civil Aviation Authority, Director of Economic Regulations- Ghana Civil Aviation Authority, management of Ghana Airport Company Limited, passengers and staff of AWA.