NCAA Identifies Nigeria's Aviation Industry Progress In These Changing Times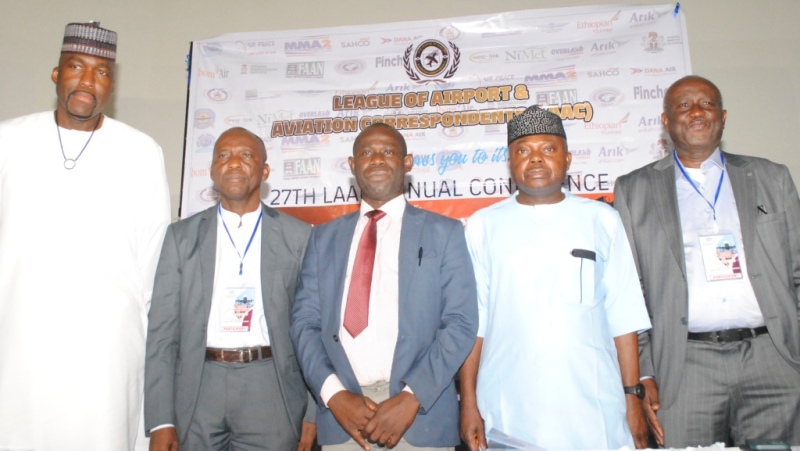 The Director General of Civil Aviation (DGCA), Nigerian Civil Aviation Authority, Capt. Musa Shuaibu Nuhu says Nigeria's aviation industry has made progress and recorded growth amidst the changing times and despite existing challenges.
Delivering a Keynote Address in Lagos at the 27th edition of the annual conference of the League of Airport and Aviation Correspondents (LAAC) with the theme, Aviation Industry: Changing Times, Changing Strategies, Nuhu said: "The cynics have once expressed views that growth in the aviation sector could only double after 15 years but the reverse is the case. Rather, we are seeing steady growth in the domestic sector with more airlines processing their Air Operator Certificates (AOCs) and the rate of connections among cities increasing. We are witnessing Nigerian airlines embarking on aggressive, but strategic expansion in regional connectivity and route strength as well.
In spite of the numerous challenges, Nigeria's air transport is making progress. The International Air Transportation Association (IATA) in a recent study recognized that the Nigeria air transportation sector has contributed over $1.7 billion in addition to provision of well over 240,00 jobs. As our traffic figures doubling so is the number of young airports increasing with the old ones embarking on massive infrastructure upgrade, expansion and equipment modernization for safety, security, safe air navigation, weather observation and forecasting.
Following the approval granted by the Federal Government, Aviation Security (AVSEC) personnel of the Federal Airports Authority of Nigeria (FAAN) has been licensed to bear light weapons like their counterparts in some European nations to enhance safety and boost their confidence to go to delicate areas at airports across the country. FAAN Training Centre was designated as ICAO Aviation Security Training Centre of Excellence while Nigerian College of Aviation Technology (NCAT) received Regional Training Centre of Excellence (RTCE). In addition, we have witnessed transformation of Accident Investigation Bureau (AIB) to a multi-modal Nigerian Safety Investigation Bureau (NSIB) with wider coverage; to determine the probable causes of accidents and serious incident occurrences in rail, maritime and aviation.
ICAO conducts the audit of every member state about every three or four years and hence would be auditing Nigeria. As you are aware, we are undergoing ICAO Universal Safety Oversight Audit Programme (USOAP)) yet again in August, 2023. We are on top of our duties, leaving nothing to chance in resolving deficiencies identified through the ICAO USOAP activities. We are positive as our preparations are in top gear for the forthcoming audits. We are prime to excel again as Nigeria has a lot riding on the modest credentials of existing regime of robust regulations and almost-a-decade of zero accident in schedule flight operation."
Nuhu, who was represented at the event by Engr. Gbolahan Abatan, NCAA's Director of Airworthiness Standards, further stated that considering that air transport has become very critical now due to other challenges of travelling by road, there is growing demand for aviation services which has encouraged many airlines to establish or plan to establish operations in Nigeria. On the one hand, the industry is battling with a string of challenges ranging from regulatory, institutional and structural challenges; on the other hand the industry is expected to experience significant improvements in areas of safety, security, technology, development infrastructure, airline management and operations among others.
Hence, to provide for an effective legal and institutional framework for a virile and prosperous aviation in Nigeria and ensure that her obligations under international aviation agreements are implemented in conformity with the standards and recommended practices set by International Civil Aviation Organization (ICAO), in Y2022, the Civil Aviation Act (CAA) 2022 was assented by (now former) President Muhammadu Buhari. The new Act which had become operational since 16th August, 2022 repealed the CAA 2006 after latter's 16 years of use and currency. Others bills also assented are Nigerian Airspace Management Act 2022, Federal Airports Authority Act 2022, Nigerian Meteorological Act 2022, Nigerian Safety Investigation Bureau Act 2022 and Nigerian College of Aviation Technology Act 2022.
It was on the heels of that landmark development that the Nigeria Civil Aviation Authority (NCAA) kick-started the process for the review of its major oversight document, Nigerian Civil Aviation Regulations (Nig. CARs) 2015 to align with recent ICAO amendments, other additional technology and procedural developments that have transpired and industry observations received by the Authority over the years. NCAA has just concluded the rule-making process on the fourth amendment to the Nig. CARs 2023. The amended regulation to be cited as Nig.CARs 2023 is published and available (both in web based and PDF versions) on the NCAA website: www.ncaa.gov.ng. The Authority will make known where and when the gazetted hard copies will be available for purchase at a later date.
"Meanwhile, all aviation stakeholders are required to comply as it effectively commenced on 10th July, 2023. In addition, we are also beginning to see operators moving away from poor choice of aircraft, poor or bad route planning and operating models. Following the outbreak of the devastating pandemic which almost brought humanity to its knees, many Nigerian airline operators cutting across established and new entrants are appreciating the economics or intrinsic benefits of operating newer and narrow-body aircraft or single-aisle aircraft like Boeing 707, Boeing 727, Boeing 737, Boeing 757, Airbus A320 and Embraer E-Jet families as their immediate recovery and survival strategy.
This is linked to prohibitive cost of fuelling, management and maintenance of larger aircraft. In this category are big jets configured for General Aviation such as Boeing 740/777, Boeing 767, Boeing 787, Airbus A330/340/380, MD-11 and MD-11ER. Operators should choose the aircraft that best suits their business plan as choice of decrepit and wrong aircraft-type for flight operations could be greatest undoing of an airline," he said.