Air Peace Launches 8th Regional Route In Nine Years, Adds Lome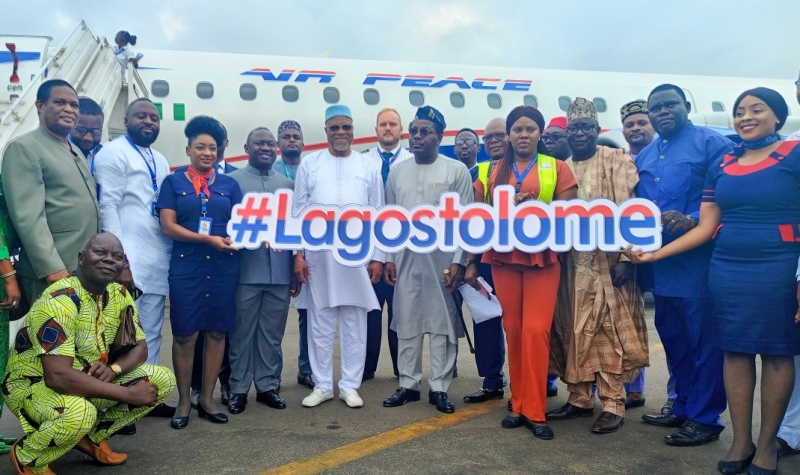 Air Peace has connected another city in West Africa by launching flights into Lome, Togo, making it eight regional routes in less than nine years since it started operation.
The airline's Safety Manager, Capt. Godfrey Ogbogu said in his address during a ceremony marking the inaugural flight that "In March 2022, we launched Niamey in Niger Republic. Now, we're expanding further with the commencement of flights into Lome, Togo. It suffices to say we're on a mission to easing air travel and bridging the connectivity gap among West African countries, and we're quite delighted that Togo is joining our route network, making it eight regional routes in less than nine years since inception."
Ogbogu said Togo and Nigeria currently have strong socio-economic ties and both countries have collaborated on significant fronts and that the launch of flights by Air Peace into Lome has given credence to these ties and will foster commercial cooperation as well as deepen bilateral ties between both countries. Nigerians come to Togo for business and other purposes and the launch of this connectivity adds fillip to this economic exchange between both countries and also advances development.
"We're reputed for our no-city-left-behind initiative and this is not just for domestic operations. Our no-city-left-behind drive extends to the West Coast, as we're poised to continually interconnect key cities in the sub-region, making it easy for Africans to maximize the payoffs of air travel for the collective development of all the nations. In keeping with this corporate ambition, we're launching, very soon, flight operations into Cotonou in Benin Republic, Abidjan in Cote d'ivoire, Congo Kinshasa and Malabo in Equatorial Guinea. Before the end of 2023, some of these routes will have been launched, because they're already in the works.
Air Peace will continue to provide best-in-class flight services, driven by a customer-first orientation and hinged on strict adherence to established safety standards. We're also modernizing and increasing our fleet, especially with the brand new Embraer 195-E2 aircraft, to continue to give our customers a matchless experience on board- whether domestic, regional or international," he said.
Air Peace currently boasts of twenty domestic routes, eight regional and five international destinations, including Israel, India and China. Also planned for launch in the future are Houston-USA and London and the airline is constantly reviewing its route network in line with the travel needs of the flying public.