FAAN MD, Leadership Applaud Behind-The-Scene Safety Staff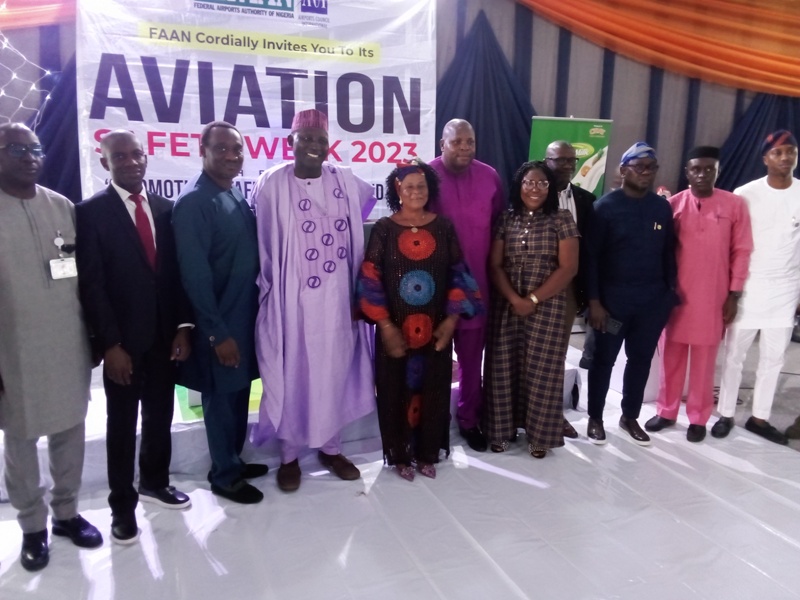 The Managing Director, Chief Executive of Federal Airports Authority of Nigeria (FAAN), Mr. Kabir Mohammed Yusuf, IAP and the General Manager, Safety Services, Mr. Nath McAbraham-Inajoh have applauded the staff of the authority located at various parts of the nation's airports, who work behind the scene to ensure safety.
In his keynote address at the climax of the 2023 FAAN Safety Week held yesterday under the theme, "Promoting Staff working behind the scenes for Aviation Safety," Mr. Kabir said "Safety is the key component of this industry, and those who work backstage to ensure that there is zero harm, and zero casualties must be lauded. I sincerely appreciate your time and effort and value even more your future support in taking safety in the aviation sphere to the next level."
Kabir, who was represented by FAAN Director of Aviation Security (AVSEC) Services, Group Capt. Usman Abubakar (Rtd) said: "We as FAAN will continue to support the activities of the Safety Services team as part of our commitment to ensuring a customer-centric experience. As this year has shown, things will not always be rosy, and it is only in unity of purpose that success can be achieved. We will constantly be tested in our management and handling of situations that will arise involving those who are within the aviation industry, and those who are without. It is how we rise to the occasion in handling these issues, while upholding our values and ideals that sets us apart."
Earlier in his welcome remarks, Mr. McAbraham-Inajoh commended the personnel that work behind the scene and encouraged them to keep up the good work.
As part of measures to avoid fuel related incidents and accidents, McAbraham-Inajoh said "we have set up fuelling safety teams and trained them."
In his presentation on Aviation Safety Sensitization and Airside Awareness, Mr. Taiwo Olugbenga identified accident causes as FODs, Runway Incursion, Runway/Taxiway Excursion, Inadequate staff training, birds/wildlife strikes, poor grass management, poor habitat modification, inadequate inspection, amongst other causes. He called for development of Safety Management Systems (SMS) and good incident data management as part of Aerodrome Operations SMS.
In his presentation on Rescue and Firefighting Service (RFFS) and Emergency Planning Response Awareness, Mr. Abdullahi O. Umar said "The operational objective of the RFFS should be to achieve response times of two minutes and not exceeding three minutes to the end of each runway, as well as to any other part of the movement area, in optimum conditions of visibility and surface conditions. Response time is considered to be the time between the initial call to the RFFS and the time when the first responding vehicle(s) is (are) in position to apply foam at a rate of at least 50 per cent of the discharge rate."
According to him, "A single organization on its own is unable to provide a quick,
efficient, and effective response. The need for coordination, cooperation and collaboration between the major stakeholders is key."
He said in his conclusion that "the aviation industry is impressive but has many risks and challenges. That's why we must appreciate the people who work hard to keep us safe and secure every time we fly. One of these groups is the emergency planning, Rescue and Firefighting Service (RFFS) personnel. They are the heroes, always ready to respond to emergencies. They deserve our gratitude, respect and support for their crucial role in protecting the flying public. They also need the best resources, equipment and facilities to do their job well and safely. By celebrating the staff who work behind the scenes for aviation safety, we can boost their morale, motivation and performance and raise the safety culture and standards in aviation."
An Aviation Security (AVSEC) Instructor, Dr. Hope Bassey in her presentation identified the hazards of AVSEC duties as shortage of manpower (stress) – leading to ill-health and untimely death, threats by both passengers and staff, aircraft noise, vagaries of weather, sensitive materials (touch, smell), frequent bending to load bags into the X-ray machine, and frisk numerous passengers (pat-down), etc.
To mitigate the hazards, she recommended industry countermeasures like ICAO Conventions (technical), Security Programmes (legislative) Access Control (Physical), Screening and Protection of Aircraft."
"Most proactive hazards identification methods are Surveys, Audits, Inspections, Tests, Workplace inspection Checklist with relevant industry hazards."
Dr. Temilade Adeniyi while presenting a paper on Occupational Health & Safety, said factors affecting welfare and psyche of workers are job stress, remuneration, interpersonal relationships and leadership style in the organization, job satisfaction and security. Outside factors are separation, divorce, pregnancy, new child illness, death, etc.
He said mental disorders such as behavioural disorders, mood disorders, depression, anxiety and so on affect workers and called for interventions such as employee orientation, periodic mental health evaluations, proper placement of staff into suitable roles, sick and paternity leave, bereavement counselling, retirement counselling and improving mental health awareness. He further said that health safety reduces cost of doing business and makes workers feel safe,
"Safety is no accident," he said.
The event featured a panel session where discussants deliberated on the papers presented. The panel moderated by Mr. Joshua Morakinyan, featured Mrs. Nosa Aituamen, Mr. Chinedu Eze, Mr. Abdullahi Umar and Mr. E. Ekanem.