What Delta Airline Is Doing On Its 2050 Zero Emissions Target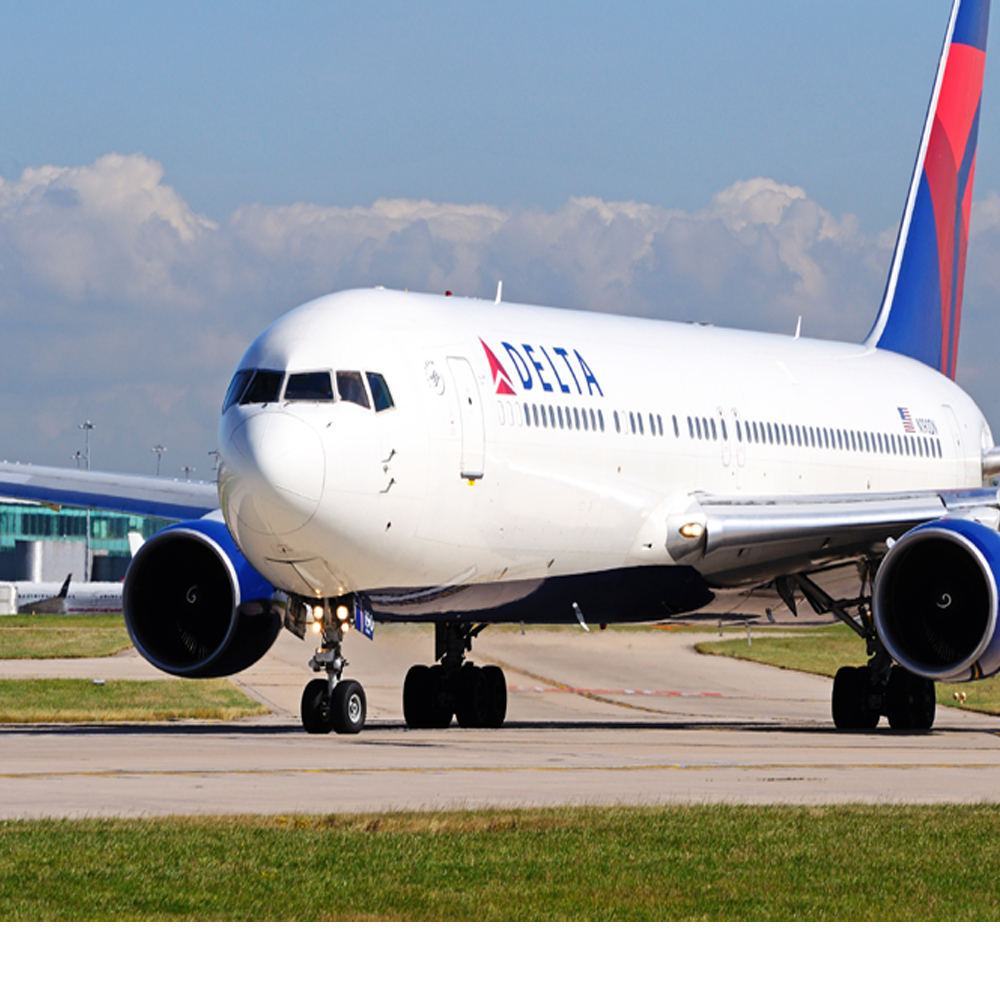 Delta displayed its sustainability strategy in action as part of the second annual SkyTeam Alliance Sustainable Flight Challenge. The challenge tests sustainable solutions as the company works toward net zero emissions by 2050 while delivering elevated, more sustainable travel experiences. These flights showcased the company's strategy in action from the electric ground support equipment to reducing single-use plastic onboard and actions that reduce emissions.
The sky isn't the limit when it comes to testing innovations for a more sustainable future. Delta recently completed its second annual Sustainable Flight Challenge using its most fuel-efficient aircraft with roundtrip flights from Los Angeles to Atlanta (medium-haul domestic) on May 17, and Atlanta to Paris (long-haul international) on May 23.
Organized by the SkyTeam Alliance, this challenge tasks participating airlines around the world to activate around passenger flights with sustainability in mind to help accelerate innovation throughout the industry.
"We're excited to showcase so many parts of Delta's sustainability strategy in action at the same time to reduce waste and emissions across the travel experience and our operations," said Pam Fletcher, Delta's Chief Sustainability Officer. "Sustainability isn't only good for our planet, it's a business imperative that requires meaningful action today. That's why this year's flights focused on scalable solutions that can be put into play more broadly in the short and medium terms. We're excited to share our findings with SkyTeam partners – and learn from their efforts – as we continue to accelerate the more sustainable future of travel."
Delta's sustainability roadmap focuses on two pillars: embedding sustainability in everything the airline does and eliminating the company's climate impact from flying. This year's flights showcased a variety of actions organized under these pillars, demonstrating that Delta is acting to reduce its carbon footprint while testing new innovations to make progress on its strategy.
ALL ROUND EFFORTS: From enhancing the travel experience with bagasse and bamboo cutlery, eco-conscious bedding and a menu from locally sourced regenerative farms to encouraging a sustainable supply chain and investing in ground operations & facilities, Delta showed off actions it's taking to advance sustainability in the near and medium term. Key highlights include:
Testing alternatives for plastic cups: With nearly 7 million pounds of plastic cups onboard every year, Delta is testing a reusable cup system and new paper cups. This is one of the greatest opportunities for Delta to reduce its single-use plastic footprint in flight. Finding the perfect cup is more challenging than it may seem – and the obvious choice isn't always the most sustainable when weight and cup liner materials are considered. The plastic replacement needs to withstand hot, cold and alcoholic
beverages while delivering a consistant customer experience. Once operationalized, these actions will help Delta make progress against its goal to minimize single-use plastic onboard by 2025.
Minimizing waste onboard: The crew separated items such as reusable cups and recyclable materials from general waste which helps make progress towards Delta's goal of 65% waste diversion from landfill by 2035.* Delta is also working to adopt a new process to recycle "pulpable" paper products including ear bud wrappers, flight fuel boxes and papers cups, where possible
Electrifying ground support equipment (GSE): GSE around the flight was 100% electric in Atlanta and Los Angeles. The impact of electrification for Delta people and local communities can be linked to improved air quality, less hazardous waste and lower noise pollution. The company is working towards 100% electrification of GSE core fleet (baggage tractors, belt loaders and aircraft tow tractors) in five hubs by 2025 (with Salt Lake City and Boston nearly there).
ELIMINATING DELTA'S CLIMATE IMPACT FROM FLYING: The company also showcased the efforts it's making in advancing how they fly by creating more efficient aircraft operations and using sustainable aviation fuel. Key highlights included:
Reducing potable water in the air: Delta tested decreasing the amount of water loaded onto the aircraft to fly lighter without compromising safety or customer experience. By doing this, the company was able to save over 1,100 pounds of water weight which helped save approximately 1,200 pounds of CO2emissions. This highly scalable solution is critical as Delta continues to work towards fuel efficiency improvement, saving 45 million gallons of fuel from operational enhancements by 2025.
Using Sustainable Aviation Fuel (SAF): Delta partnered with U.S.-based SAF startup, Gevo, and Finnish company, Neste, to source and deliver 8,000 gallons of SAF to Atlanta and Los Angeles airports. Today, SAF is the most effective tool to decarbonize the aviation industry, as it has up to 80% less lifecycle greenhouse gas emissions than traditional jet fuel. The challenge, however, is that there is not enough being produced today. Delta has contracts for half of its goal of 10% SAF usage by end of 2030, but it'll take cross-stakeholder partnerships from producers, airlines, governments, and more to properly scale this proven solution.
"No single company can decarbonize the aviation industry – it will take all of us working together and doing more than our part to be successful," said Amelia DeLuca, Delta's Vice President of International Customer Experience and Partner Sustainability. "That's what this challenge is all about. Challenging ourselves and our SkyTeam partners to identify new scalable solutions and then share best practices to accelerate sustainable action across the industry."
During the 2022 flight challenge, Delta replaced single-use plastic cold cups with reusable cups for the first time. This change, along with other purposeful substitutions, reduced total single-use plastics onboard by 81% compared to the average amount used on the same route. This effort resulted in the award for the "Best Sustainable Innovation – Inflight," and Delta has continued testing since then to bring this solution to life in working towards its 2025 goal of minimizing single-use plastic on board.