UNA To Do Better From Two Years' Lessons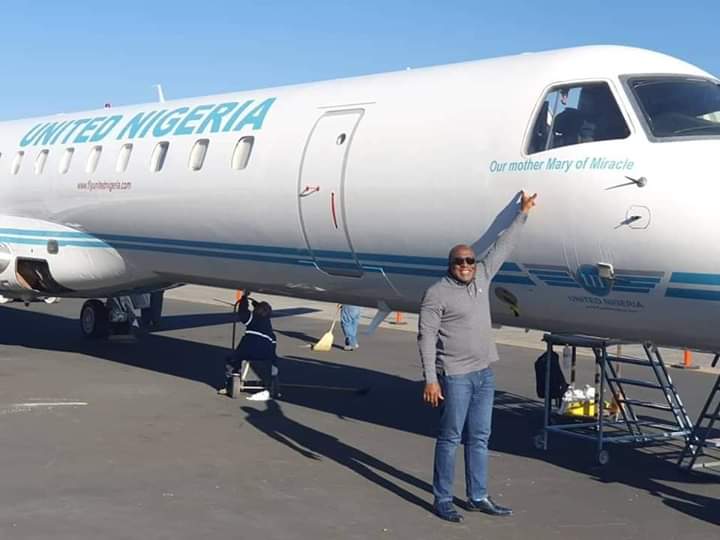 The Chief Operations Officer of United Nigeria Airlines (UNA), Mazi Osita Okonkwo says the airline will draw on lessons learnt from its last two years of existence to continuously improve its services.
"Going into our third year, we shall do our best to draw on lessons learnt to continuously improve our services," he said, commenting as the airline marks two years of serving in the country's aviation sector on February 12 with the gift of return air tickets to 10 outstanding customers of the airline.
He said: "We thank God for seeing us through our second year of operations. It has been an interesting time of value addition to the aviation sector in Nigeria. We started operations flying from Lagos into Enugu, Abuja, and Asaba. We have expanded into Osubi in Warri, Owerri, Port Harcourt, and Anambra and are now set to begin flying into Jos and Benin.
"The second year has been more challenging than our first year. During this period, we faced the challenges created by short supply and high prices of aviation fuel, which impacted negatively on regular operations leading to flight rescheduling, delays, and even cancellations. It has not been easy managing those challenges, especially when you are determined to ensure customer satisfaction.
"We have also confronted the issue of non-availability and high rate of forex. These are unforeseen developments that tasked the industry. No operator planned it, and both factors critically challenged company's operational plans. However, we have remained focused on our strategic plan. We would continue to ensure that we offer the best of services to our customers at all times.
"We also thank our customers for their support to United Nigeria Airlines while looking forward to serving them, and more people, better as the years unfold."
The ten outstanding customers, who were selected based on their travel frequency with the airline, will receive free return tickets as well as 10 outstanding sales agents who distinguished themselves in the course of the year.
The sales agents include: wakanow.com, Orih Travel and Tours, Chellas Travels Services, Mfest Travels Agency, Quickair Networks, Super International Travels, Shephard Trust Limited, Dhaar Travel And Logistics Services, Satguru Investment Nigeria Limited, and Travel Essentials Limited.
A statement signed by Head, Corporate Communications of the airline, Achilleus-Chud Uchegbu, said all the winners will be presented with a return ticket in appreciation of their support to United Nigeria Airlines.
Director of Administration, Mr. Linus Awute said: "Our decision to reward our customers is deliberate. Without them, we would have had nobody to serve. So, we appreciate their support and patronage, and that is why we have offered each one of them a free return ticket. We also look forward to a more enduring and mutually beneficial relationship with our customers and sales agents".
United Nigeria Airlines began regular scheduled operations on February 12, 2021 after obtaining it Air Operator's Certificate (AOC) and has won two awards as Most Enterprising Airline of the Year by The New Telegraph newspapers and Airline of the Year Daily Independent newspapers.