Sunset Airports Heat Up Discussions At LAAC Conference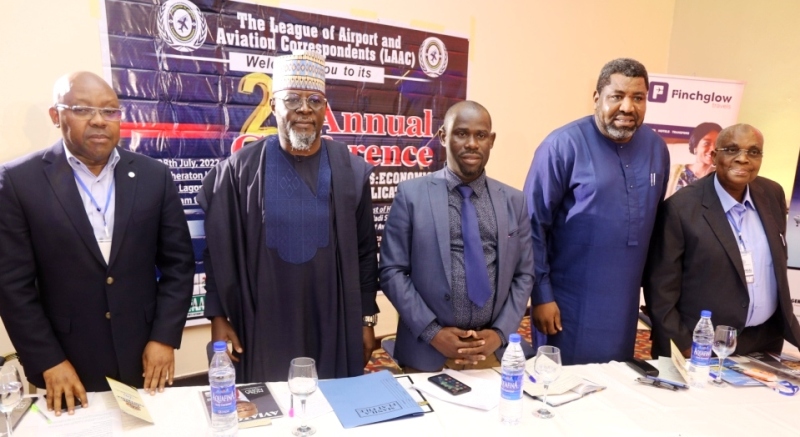 What effect does the restriction of airports operation to daytime have on scheduled passenger aircraft staying on the ground for a longer part of the day? Do Nigeria's airports have enough passenger traffic to attract operations beyond daylight flights? Who bares the cost for maintenance of airports that harbor economically ridiculous passenger traffic? What is the acceptable standard of practice in more advanced climes?
These and many more questions surrounding Nigeria's over 22 airports were issues that industry stakeholders sought to address at the 26th edition of the Annual Conference organized by the League of Airports & Aviation Correspondents (LAAC), which was held at Sheraton Hotels, Ikeja, Lagos last Thursday, July 28, 2022. Theme of the conference was: 'SUNSET AIRPORTS: ECONOMIC & SAFETY IMPLICATIONS.'
In his presentation titled Passenger Experience In Daylight Airports, the Centre Director, Centre For International Advanced And Professional Studies (CIAPS), Prof. Anthony Kila said a conversation of this nature in 2022 was anachronistic considering the level of development in some other climes. He called for a rethink of approaches to development and a review of perceptions such as the perception that the aviation industry is only for elites.
"If we want this industry to trade for 24 hours, it is possible. Once we collaborate and agree to expand, it is possible," he said.
The Chief Operating Officer of Ibom Air, Mr. George Uriesi in his paper titled: "Maximizing Runways Utilization", advised government to "prioritize airfield infrastructure and provide the necessary ILS and accompanying accessories for every airport."
"Keep airports open to meet the needs of airlines and other users," he added, advising airlines to also work on organizational capabilities, network planning and operational efficiency."
Speaking on behalf of the Director General, Nigerian Civil Aviation Authority (NCAA), Capt Musa Nuhu at the event, the Director, Aerodrome & Airspace Standards, Engr. Tayib Odunowo said one of the many reasons some airports were restricted to sunrise-sunset flight operations in Nigeria was due to the safety implications and challenges of night operation.
Some of the challenges he identified are inadequate infrastructure, airports poor financial outlays, security risks and threats, inadequate airport and ANS infrastructure, traffic level, airline capacity, among others.
"Nigeria needs over 1.5trillion naira or 5 billion US dollars to fix airports infrastructure gap in the country, according to African Development Bank (ADB) report.
The Principal Managing Partner, Avaero Capital, Ms. Sindy Foster in her contribution said though there was a need for extension of airport operating hours, it was necessary to work with data by assessing the viability of putting in extra hours in airport operations before taking decisions on it. "It has to be data-driven," she said.
Mr. Nath McAbraham-Inajoh, General Manager, Safety at Federal Airports Authority of Nigeria (FAAN), who represented his Managing Director/Chief Executive, Capt. Hamisu Yadudu said FAAN has a cost component in business, just like any other business organization and that cost therefore, should be considered in drawing conclusions as to whether or not more airports should operate for extra hours.
A discussant on the Panel Session, Mr. Daniel Young noted that the issue of sunset airports operation in Nigeria was a demand and supply issue and that "there has to be demand for sunset airports before you have them."
"Passenger traffic is what creates demand and you need that. Except you have passenger traffic growing to a point at the airport, there is no need for creating it. Viability should also be viewed from the angle of need," he said adding however that how long it takes to achieve an airport's viability was not important." "If it takes 20 years to make an airport viable, it is worth it," said Young.
"I don't see anything wrong with night operations," said Engr. Akin Olateru, Commissioner/CEO, Accident Investigation Bureau, Nigeria (AIB-N). He advocated more engagements to make this happen. "Airlines need to engage FAAN the more. They can use AON to do the negotiation," he said.
Olateru however pointed out that no airline would fly to where passengers don't go. "An airport cannot make money without you building businesses around it," he posited.
In his contribution, the Publisher of Travellers Weekend Magazine, Mr. Ikechi Uko advised that operations at some airports in Nigeria be structured in such a way that full cargo operations are carried out at sunset, after operation of passenger flights at sunrise and during the day. He also advised that shopping malls and hotels be built around airports to attract traffic and viability to such airports.
The Chief Executive Officer of TopBrass Aviation, Capt. Roland Iyayi opined that there had to be adequate number of flights to warrant the extension of an airport's operating hours.
In his remarks, the Acting Managing Director of Nigerian Airspace Management Agency (NAMA), Mr. Lawrence Pwajok noted that extension of airports operating hours was not a problem but that the rising cost of jet fuel, power services and provision of other facilities should be considered in taking such decision.
Chairman of the occasion and Group Managing Director, Finchglow Holdings, Mr. Bernard Bankole emphasized the place of economic implications on extension of operating hours for airports, citing examples.
"If there is no diesel or light at an airport, the airport cannot operate. That's an economic implication," he said, suggesting alternative traffic boosting and revenue generating sources for airports such as modernization of airport terminals with shopping malls to contribute to the commercial viability of the airports and other necessary infrastructure like the internet and constant power supply to support businesses, provision of other sources of power, providing affordable hotels which will give credence to investments and creation of interconnectivity of the local airports to the international airports to enhance the economic viability of the airports.
The Managing Director of Belujane Konzult Limited, Mr. Chris Aligbe posited that "unless we decentralize airports management, the airports cannot grow." He emphasized that management centrality cannot help the airports as "the vision and mission of Kano airport can be different from that of Enugu Airport. We can have a Group Managing Director at the centre but decentralize the management," he proposed.
Engr. Odunowo of NCAA in response to this proposal, stated that in line with ICAO's provisions, the nation's airports were already decentralized since it is the Airport Manager that ICAO holds accountable for activities at a particular airport.