Nigeria's Aviation Infrastructure: Changing Times, Changing Strategies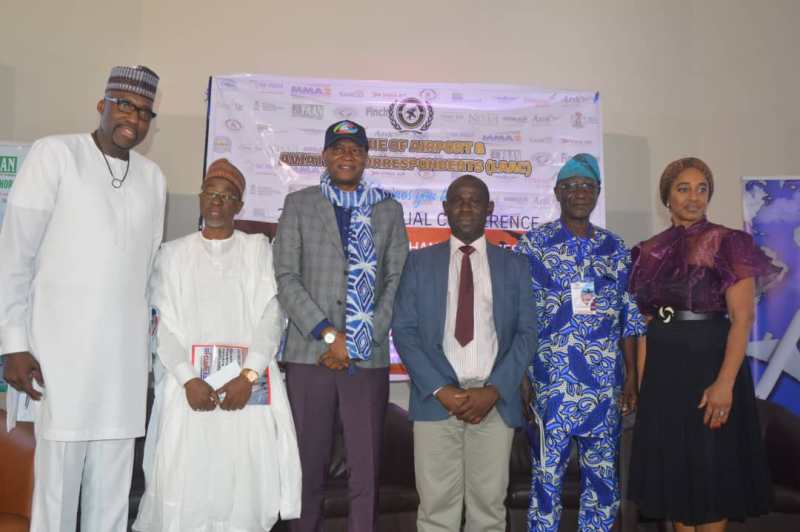 Today, the air traveller or passenger is a very critical stakeholder in Nigeria's aviation industry largely because of poor infrastructure. Many failures in performance recorded by players resulting from poor airports infrastructure, downplay interest of the flying public, which boomerang on the image of the aviation industry in Nigeria.
"This is not exactly how aviation works in other climes today. You would agree with me that we definitely need to do things differently. Times have changed. We must change our strategies," said the Chairman, League of Airport & Aviation Correspondents (LAAC) Mr. Olusegun Koiki in his welcome address at the 27th LAAC Annual Conference & Awards held at Providence Hotel, Lagos last Thursday under the theme, Changing Times, Changing Strategies.
This conference was informed by the emerging changes in approach to aviation business as regards technology and other aspects of the aviation industry.
"It is obvious the global aviation industry will be determined by three factors in the next 77 years: a global market, sustainability, and transformative technologies. The global market is not only a driver because of where planes are flying, but also because of where companies, manufacturers, and supply chains are located. Sustainability of the aviation industry is going to be a major driver in the years to come. Transformative technologies will be a major force for the industry and it will be very fast-moving and markets will have to contend with how to integrate them and how to do it quickly," stated Koiki.
Former President, Aviation Safety Round Table Initiative (ASRTI), Dr. Gabriel Olowo believes that the solution to the industry's infrastructure challenges lies with the stakeholders, some of who themselves relapse on the problems without providing the solutions that they ought to.
"We are not part of solution makers. We are always identifying problems. When you meet the Minister now, he will be telling you about the problems whereas he is the solution. The Managing Director of Federal Airports Authority of Nigeria (FAAN) is talking to you about the problems, but he is the solution. At his airports, water does not run. He knows that when a domestic passenger comes down, he cannot connect internationally. Doesn't he know? He is supposed to be the solution. So, what strategy are you changing when there is cobweb in your room and you can see it but left it there?," he said.
"Change is something that is permanent. You can't avoid change in life. It is something that will always occur and happen," says Engr. Akin Olateru, Director General, Nigeria Safety Investigation Bureau (NSIB).
He said what is required is "to ensure you are kitted and that you have the right equipment, infrastructure to deliver on your mandate."
To deliver on the mandate provided by the Act that recently established NSIB, Olateru said equipment is one of the four things that are critical.
"Some of our equipment today are compatible with the other modes of transportation. In today's world, you have ships that have recorders that can be downloaded in our facility. Some fast trains around the world today have recorders as well. In terms of the recorders, I think we are good, but there is some specific equipment that will be required for us to carry out this mandate in other modes of transportation," he said.
In response to the changing times, Managing Director of Nigerian Airspace Management Agency (NAMA), Mr. Tayib Odunowo said "we started the power audit. You know, when you want to diagnose a problem, you have to look at the symptoms before administering a drug. So, much has been done in-house. We put a committee together made up of engineering people that own communication and operations, which are the user department. So, they have identified key things, key deliverables that we have started working on in order to close that gap. One of them is power. So, immediately, we rolled up solar powered transmitters. What does that do? That bridges the gap for our communications. The communication issue we have basically is in our upper airspace. So, the third one is that we are doing what is called an Aeronautical Information Service (AIS) automation process, which is the backbone of everything we are talking about. Everything that we are talking about now is going to ride on AIS automation and that process is ongoing currently. The contractor has promised that all the five international airports will be operational. So, once we do that as phase one, then by the time we move to phase two, our communication issues will be history."
On NAMA's multilateration project, he said: "It is 90% completed. It is basically concentrated more in the Delta. That region is the busiest airspace right now in Nigeria. If you look at the proximity of all the airports, you have all these low flying objects. What NAMA is trying to do is to make sure that anything that flies in the Delta region is picked by the Satellite Based Augmentation System (SBAS). But right now, we intend to deploy Multilateration Technology (MLAT) all over Nigeria, starting from the Delta region. Don't forget that even in foreign countries, MLAT kind of superimposes your regular radar. So, they actually work hand-in-hand."
On Satellite Based Augmentation System (SBAS), Tayib said "what SBAS does is that it brings your Ground Based Software (GBS); let's assume GBS has a zero or the tolerance limit of Global Positioning System (GPS) is one foot. When you use SBAS, it brings it down to like two inches. That is really what SBAS does. So, it is a no brainer especially when we are talking about bad weather. When we are talking of harmattan, talking about rain, SBAS is a must. Don't forget we still have challenges with some of our navigational aids. So, it is like a backup for them. All the airlines love it. It saves them money, fuel, and they can fly freely."
The Acting Chief Operating Officer (COO), Bi-Courtney Aviation Services Limited (BASL) says "at the end of the day, if we do not embrace the new strategy of technology, using the data that we have to give the passenger a better experience, then you know we really haven't begun the journey. For MMA2 and Bi-Courtney, on behalf of Dr. Wale Babalakin, one of the things that we are doing is going for the on-time policy because it sounds old fashioned, but it's the only way to go when we give the passenger the experience."
"We are going for the infrastructure, expanding the runway, making sure that we are actually ready for the capacity that's coming," she said, adding that "with MMA2 especially, and the on-time policies that we are looking for and the enterprise resource solutions that we are looking for, planned, preventive maintenance, that's going to be our new mantra. We are also already getting ready for Christmas. It's July, but we are ready for Christmas because we know that if we don't work into the future and work ahead of the game, then we are not going to be ready at all. These are some of the strategies that we are looking for."
The Director General, Civil Aviation, Nigeria Civil Aviation Authority (NCAA), Capt. Musa Nuhu in his keynote speech said amidst challenges, "the industry is expected to experience significant improvements in areas of safety, security, technology, development infrastructure, airline management and operations among others."
"As aviation is global, we have no choice than to keep aviation working by adopting workable initiatives and rightful changing strategies to contend with ever-changing times," Nuhu added.