Make Best Use Of New Fire Fighting Vehicles, FAAN MD Tells Personnel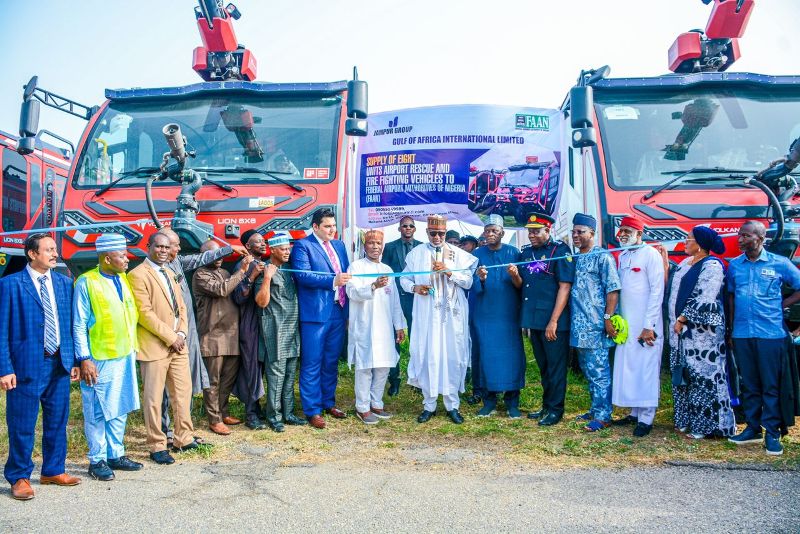 The Managing Director/Chief Executive of the Federal Airports Authority of Nigeria (FAAN), Capt. Rabiu Hamisu Yadudu has charged the Air Rescue and Fire Fighting Department of FAAN to make the best use of the newly commissioned ten brand new, high capacity firefighting vehicles acquired to improve safety of flight operations at the nation's airports.
Yadudu who gave this charge while expressing the Authority's profound appreciation to the President Muhammadu Buhari led administration, through the Ministry of Aviation, headed by the Honourable Minister of Aviation, Senator Hadi Sirika, noted that in fostering safety and security of flight operations, the Federal Government has focused on the tripod of rehabilitation/upgrade of infrastructure, capacity building, and training/manpower development.
He noted that comprehensive training programmes have been arranged for the users of the vehicles and the mechanical department to ensure the vehicles are not only used as specified by the manufacturers but also maintained accordingly. He also said that eight new water tankers for continuous agent applications, eleven ambulances, two brand new Response Commanders' Vehicles, and Aircraft Removal and Recovery Equipment have also been procured and deployed to various airports and promised that the Authority would continue to prioritize safety and security at the nation's airports,
The Lion Volkan 6×6 Brand, Major Aerodrome Rescue and Fire Fighting Vehicles (MFFV), which carry 14,000 litres of water, 1,700 litres of foam, 250kg powder capacity each, and monitors the discharge rate of between 6,000 litres to 10,000 litres per minute would be deployed to the Murtala Muhammed Airport, Lagos, Nnamdi Azikiwe International Airport, Abuja, and Mallam Aminu Kano International Airport, Kano.
With an acceleration rate of 0-80km per hour in 30 seconds, each of the truck possesses limitless capacity to discharge while in motion, they are also equipped with under chassis nozzles to tackle running fuel fire.
The Minister of Aviation last Saturday, April 1, 2023 commissioned the new equipment which cost over N12 billion to acquire.