How To Sustain Nigeria's Aviation Industry, By Stakeholders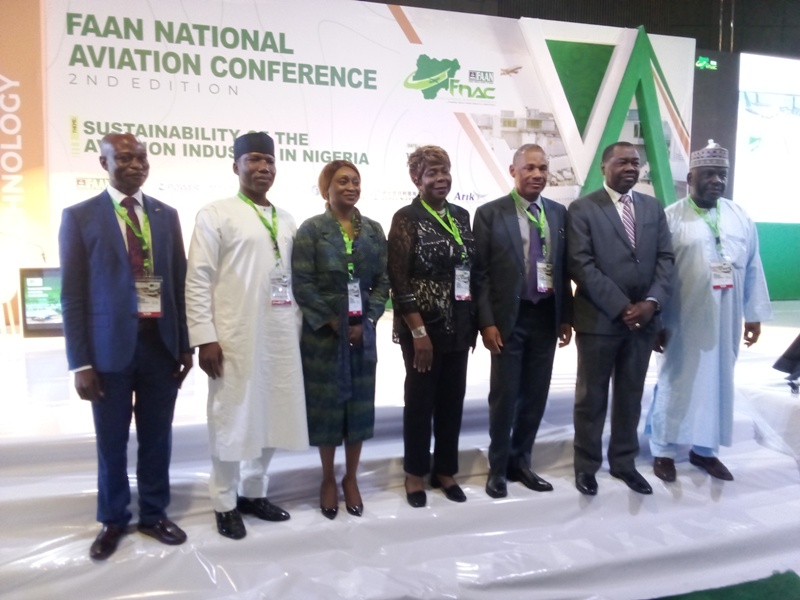 Key players in Nigeria's aviation industry gathered yesterday at the FAAN National Aviation Conference (FNAC) 2023 held at International Conference Centre, Abuja to exchange ideas on how Nigeria's aviation industry can be sustained.
Delivering his welcome speech at the event organized by Federal Airports Authority of Nigeria (FAAN) under the theme, "Sustainability Of The Aviation Industry In Nigeria, the Managing Director/Chief Executive of FAAN, Capt. Hamisu Rabiu Yadudu said the term, Sustainability in this year's theme speaks to progress, endurance, stability, capacity and consistency.
He identified three models of sustainability as economic viability, environmental protection and social equity, stating: "It has been established that sustainability can only be achieved through collaboration, control, communication and commitment."
Yadudu later stated during a panel session at the programme that "the biggest challenge in the industry is enforcement of compliance. He said the regulations to achieve sustainability are already there but that there was need for attitudinal change and enforcement.
Identifying threats to the sustainability of the industry, representative of Airline Operators of Nigeria (AON), Capt. Roland Iyayi said the policy that requires all airlines to be licensed with the same criteria should be reviewed stating that "if you categorize airline licensing into three different levels, the airlines would be able to focus on their individual models and run their businesses sustainably." He also said taxes, fees and charges were threatening the sector.
"If government increases taxes, fees or charges by one dollar, the airlines suffer," he said. The third threat Iyayi identified was the arbitrariness with which government insists that something be done even when it does not make sense," citing an example of giving a political consideration to a decision that should be commercial.
Iyayi pointed out that data has not been used to the benefit of Nigeria's aviation industry and that there is a need for a foundation where there is repository of data that can be used for proper planning.
"There is need to develop a credible database for the entire industry to enable planning," he said.
"For an airport to be sustainable, it has to have not less than one million passengers," said Emmanuel Chavez, President, Airports Council International (ACI), Africa.
Chavez equally frowned at fragmentation of industry players in Africa saying that "there has to be concentration strategy rather than fragmentation." He noted that companies that own 300 aircraft in other climes are merging and cooperating and wondered why Nigerian airlines find it difficult to do so, even with the few aircraft that they have.
The Acting Managing Director of Nigerian Airspace Management Agency (NAMA), Mr. Lawrence Matthew Pwajok said investment in satellite navigation, communication and surveillance systems at all airports across Nigeria was a future target for NAMA adding that investing in satellite systems is the way for airlines to reduce cost and be sustainable.
The Director General of Civil Aviation, Nigerian Civil Aviation Authority (NCAA), Capt. Musa Nuhu identified three pillars of sustainability development as social, environmental and economic pillars and stated that the NCAA had broadened commitment to advancing and strengthening the multi-disciplinary and independent pillars. He said the Nigerian Civil Aviation Policy (NCAP) was under review and when completed, is expected to provide a strategic vision for the industry. He further disclosed that NCAA had developed an ICT and Cyber security policy and that every aviation agency was required to do so.
In his contribution, the Director General of Nigerian Safety Investigation Bureau (NSIB), Engr. Akin Olateru said for every institution to function properly and sustainably, there had to be infrastructure, equipment, human capital systems, processes and procedures and that there was need for innovation and investment in research in order to have a sustainable industry.
In her presentation, the Secretary General of African Civil Aviation Commission (AFCAC), Ms. Adefunke Adeyemi said sustainability of the industry depends on volume, capacity and scale. She advised airlines to cooperate more and urged West African governments to remove impediments to the implementation of Single African Air Transport Market (SAATM) so that the industry can be sustainable.
The Managing Director of Belujane Konzult Limited, Mr. Chris Aligbe called on AFCAC to pursue the harmonization of rates, airport charges and other policies in member countries in other to enable countries interested in implementing SAATM to get clearance from countries they intend to operate flights into.
The Regional Director of International Air Transport Association (IATA) in Nigeria, Dr. Samson Fatokun suggested that FAAN could approach an airline and encourage that airline to develop a particular dormant route by providing about six months window to operate without any charges or taxes being paid by the airline. He equally said there was need to do something about the cost structure of the average Nigerian airline which affects the air fares.