Dana Air Supports Guinness World Record-Breaking Chef Hilda Baci, Mum With Free Tickets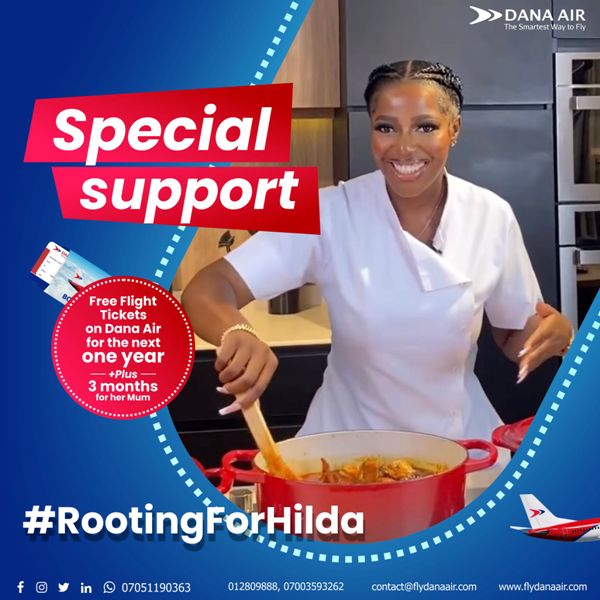 Dana Air has announced its support for the Guinness World Record-breaking Chef Hilda Baci, with one year of free tickets for all her domestic travels.
Hilda surpassed the current world record for the longest cooking marathon by an individual. The 27-year-old started cooking on Thursday 11th May 2023 and surpassed India's Lata Tondon who set the record with 87 hours 45mins in 2019.
Speaking on the support for Hilda Baci, the Chief Operating Officer of Dana Air, Ememobong Ettete, Dana Air has and will always support the craft, creativity, efforts, and innovations of young Nigerians who embody the true Nigerian spirit as a proudly Nigerian brand.
"We have always blazed the trail in terms of support for the arts and entertainment industry, health care, and culture and our corporate social responsibility has been all-encompassing."
"We will be supporting Hilda's local travels for one year and We are inspired by her strength and determination for greatness. We understand her mum is also a chef and she must have gotten this inspiration from her and in the light of this, we shall be supporting her mum with 3 months of local flights for free. We thank Hilda's mum for giving us an amazing daughter and for being a huge support system to Hilda."