Delta Air Lines, Kenya Airways Expand Partnership For More Travel Options Across US, Africa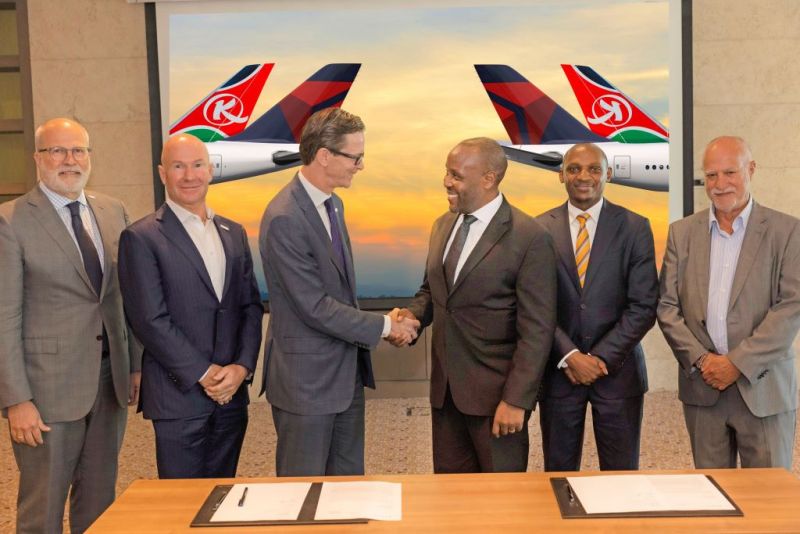 Delta Air Lines and Kenya Airways PLC are expanding their strategic partnership to include Kenya Airways' nonstop Nairobi-to-New York service, effective Aug. 5, 2023. The expanded partnership also offers customers more travel options within the U.S. and Africa, with 31 additional single connect destinations in Africa and another 57 across the U.S. and Canada.
Apart from enjoying the most direct route and wider connectivity options, Delta SkyMiles members and Kenya Airways' Asante Rewards members can also continue to earn miles on this enhancement. Tickets can be purchased from delta.com, as well as through trade and corporate channels including travel agencies.
"At a time when we are seeing unprecedented demand for travel between North America and Africa, expanding our strategic partnership with Kenya Airways offers our customers more travel options as well as supports our priority to deepen our presence across the African continent," said Alain Bellemare, Delta's President of International.
Allan Kilavuka, Kenya Airways PLC CEO, explained this new expansion will enhance connectivity between Africa and the U.S. and offer the KQ product directly through its American partner.
"Kenya Airways prides itself in connecting Africa to the world and the world to Africa," Kilavuka added. "The expansion of the codeshare is historic as it not only allows KQ to expand its footprint in the U.S., providing seamless connectivity on a single ticket for those travelling for business, leisure or studies. It also offers seamless connectivity to those visiting Africa for similar reasons through JFK into KQ's hub at Jomo Kenyatta International Airport (JKIA) in Nairobi."
KQ currently offers daily flights from Nairobi, Kenya to the U.S. via JFK airport in New York. Delta has been operating nonstop service between Africa to the United States since 2006. Delta currently operates flights from Accra, Ghana; Dakar, Senegal; Cape Town and Johannesburg, South Africa; and Lagos, Nigeria.