ART To Assemble Stakeholders, Set Agenda For New Dispensation At BBM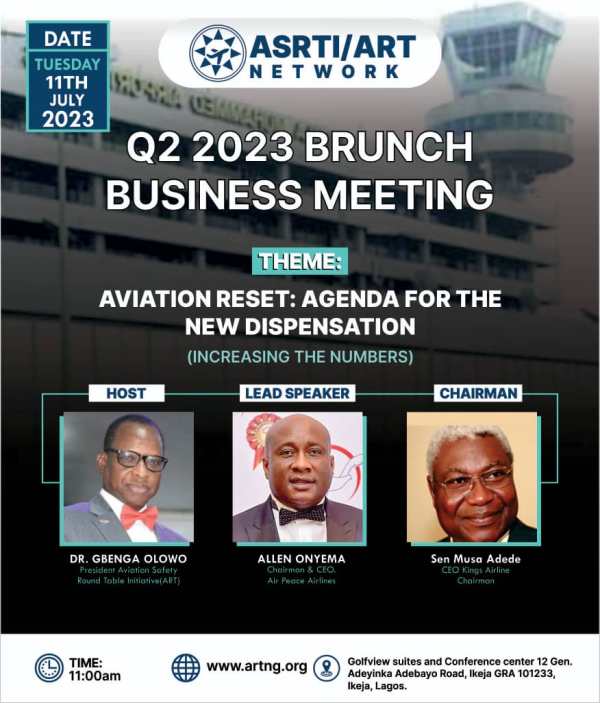 Aviation Safety Round Table Initiative (ASRTI), Nigeria's foremost aviation NGO popularly known as ART will at 11.00am on Tuesday, July 11, 2023 assemble stakeholders in Nigeria's aviation industry for Brunch Business Meeting (BBM) that will hold at Golfview Suites & Conference Centre, GRA, Ikeja, Lagos.
Theme of the Quarters2 BBM is AVIATION RESET: AGENDA FOR THE NEW DISPENSATION (Increasing The Numbers).
Barrister Allen Onyema, Chairman of Air Peace Airline will be the Lead Speaker at the event where Senator Musa Adede will function as Chairman. Also, a broad spectrum panel of industry professionals shall discuss and curate the aviation agenda for the new dispensation following the Lead Speaker.
President of ASRTI, Dr. Gbenga Olowo says the Q2 BBM is unique in the series of ART BBMs because it will set agenda for the new leadership of the country on the professional direction that Nigeria's aviation industry should take to achieve prosperity.
This year's ART BBM will follow it's Annual General Meeting (AGM) and election of new executives for the organization, following expiration of tenure of current executives. Also, there will be a book presentation chronicling the activities of ART in the last two decades.