Airline, Most Resilient Sector In Nigeria, Says United Nigeria Airlines Chairman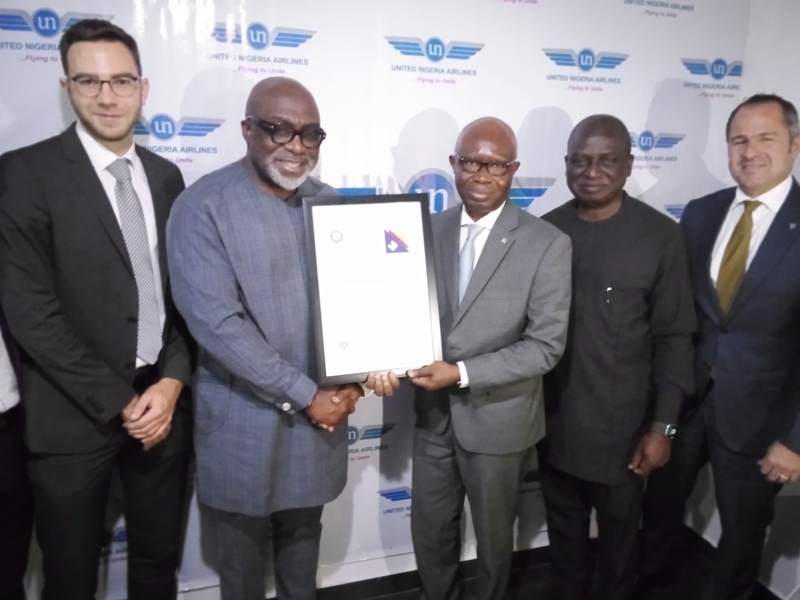 The Chairman of United Nigeria Airlines, Dr. Obiora Okonkwo says the airline sub-sector has been the most resilient sector of Nigeria's economy.
Addressing aviation journalists today in Lagos after receiving United Nigeria Airlines Membership Certificate from the International Air Transport Association (IATA), Obiora said if airlines were to react in line with the realities on ground, many local airline operators would not be flying because they would actually make more money by not flying, considering the environmental challenges they face. He said local airlines in Nigeria were still being adjudged based on old stereotypes.
"We have had more banks closed in Nigeria than airlines. We have had more manufacturers close shop than airlines," he said, adding that the potentials of aviation development  in Nigeria are not existing in many other countries that are leaders in the global market but that the few airlines operating in Nigeria face great infrastructure deficit such as inadequate space and check-in counters, inadequate manpower, ILS that is not calibrated, weather and other factors that contribute to flight delays. He called on stakeholders to de-emphasize the issue of having six aircraft minimum as condition for commencement of scheduled flight operations.
"The number of aircraft you have does not solve the problem of delays," he said.
Okonkwo further stated that big players like Emirates and Ethiopian Airlines started operations with two aircraft whereas United Nigeria Airlines started with four aircraft. He explained that while a typical aircraft was designed to do eight sectors and has capacity to fly 18 hours per day, aircraft operated by Nigeria's local airlines fly for eight hours per day instead of 18, implying that the aircraft are under-utilized.
"Lets talk about how to maximize our aircraft usage,"; he said, asserting that aircraft lessors are attracted more to operators who they know can maximize use of aircraft.
Okonkwo also said that his airline was looking forward to global gains expected from IATA membership achievement and that of the airline's management team, which he said he was proud of.
Shortly before the certificate presentation, IATA's Regional Director, Dr. Samson Fatokun said he had not seen any airline in Nigeria that got IATA membership so fast like UNA and that there is a drive within the airline as an organization to comply with global Standards & Recommended Practices (SARPs).
"We have very few of you within the continent."
"The role of IATA and our desire is to work with you for your desired growth," said Fatokun.
In his Goodwill Remarks, the Regional Vice President, Embraer Commercial Aviation, Mr. Francisco Moraes described United Nigeria Airlines as a diligent airline, diligent operation wise and diligent business wise.
"We are very happy to have you. Keep counting on our support and let us journey," he said.