Air Peace Advances Implementation Of Nigeria-Isreali BASA, Commences Flights To Israel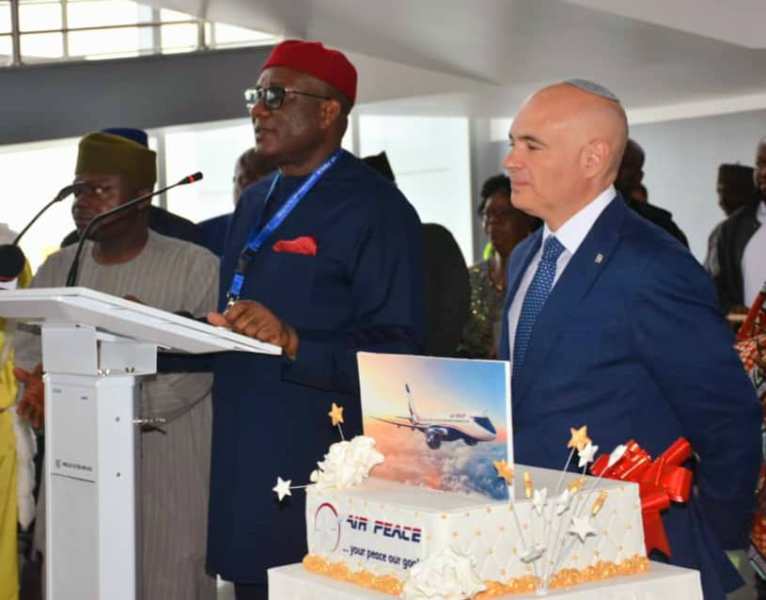 The Chairman of Air Peace, Barrister Allen Onyema says today, April 20, 2023 commencement of direct, nonstop flights to Tel Aviv, Israel from Lagos and Abuja by his airline will advance implementation of Bilateral Air Service Agreement (BASA) existing between both countries.
Speaking at the event, Onyema said: "Our entry into Israel today will open up more layers of opportunities and possibilities socially, and economically, and advance the implementation of the Bilateral Air Services Agreement between Nigeria and Israel. The connectivity will boost 'religious tourism', especially factoring the numerous Nigerians who embark on pilgrimage trips to Israel."
At the well-attended inaugural flight ceremony held at the Nnamdi Azikiwe International Airport, Abuja, Onyema, said history had been made in the bilateral relations between Nigeria and Israel through the commencement of the direct, nonstop flights from Lagos and Abuja to the city of Tel Aviv.
He asserted: "This is undoubtedly a big milestone as, for the first time, a Nigerian airline is connecting both countries directly through scheduled commercial flights".
Onyema said the airline was delighted particularly because this new route will provide huge respite to Nigerian travellers who, henceforth, do not have to travel to Israel through other countries, spending over 20 hours in stopovers whereas a direct flight is less than 6 hours.
He stressed that the airline is familiar with the Israeli airspace as it operated evacuation flights to the country in 2020, following the COVID-19 pandemic.
Onyema expressed gratitude to the Israeli government, especially its Ambassador to Nigeria, Mr Michael Freeman, the Minister of Aviation, Hadi Sirika, the Nigerian Civil Aviation Authority, Federal Airports Authority of Nigeria and other stakeholders whose efforts made this launch possible.
Ambassador Freeman expressed joy over the new connectivity, stressing that it would help deepen bilateral ties between both countries and promote mutually beneficial economic engagements.
Speaking, the Governor of Ebonyi State, Engr David Umahi, commended Onyema for his strides in aviation. He added that the growth of Air Peace has shown that a Nigerian can make sustainable global inroads in aviation as Air Peace is solidly representing Nigeria in the international aviation community. He emphasized the socio-economic impact of the new route, especially in 'religious tourism'.
The Minister of Aviation, Hadi Sirika, represented by Mr. Hassan Ejibunu, Director of Air Transport Management, Ministry of Aviation, reiterated the support of the government to indigenous airlines and promised government's continued assistance to Air Peace in its route expansion drive.
The airline now has five international destinations, including the recently launched Mumbai, 20 domestic (with Maiduguri launching on April 21, 2023)and seven regional routes .