Togo CAA Boss Advocates Reduced Taxes, Targets 1.5Million Lome Airport Traffic, 2023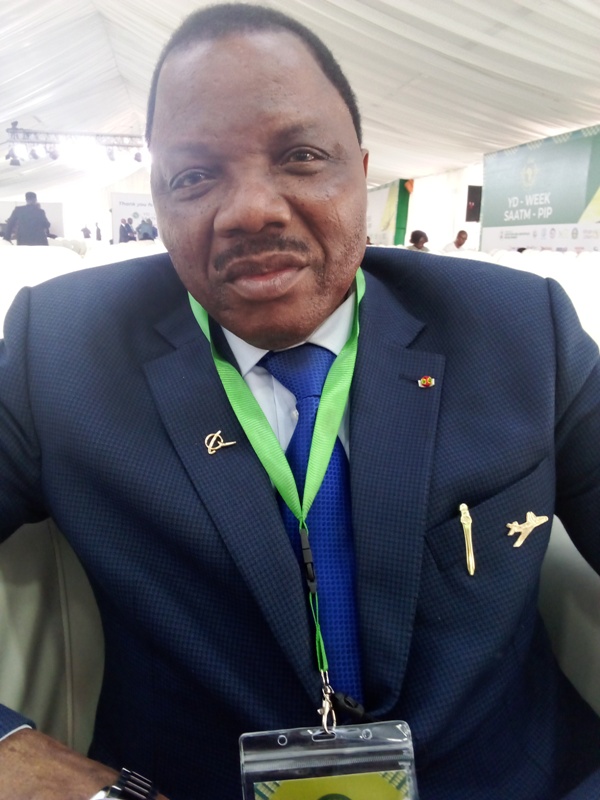 LATTA DOKISIME GNAMA, Managing Director, Agencie Nationale (ANAC/SALT), Togo Civil Aviation Authority (De L'Aviation Civile Du Togo) is also a former Minister and an airline pilot. The President of Togo is the champion of the Single African Air Transport Market (SAATM) Implementation and Gnama represented his President at the YD Week 2023 organized by African Civil Aviation Commission (AFCAC) in Abuja, Nigeria. In this interview with AVIATION MONITOR, he advocates commitment of other African countries to SAATM and comments on Togo's aviation industry status.
 Q: WHAT ARE YOU DOING TO ENCOURAGE MORE PRIVATE SECTOR PARTICIPATION IN TOGO'S AIR TRANSPORT INDUSTRY?
A: You know, in Togo, we have standards. We follow the evolution of prices in decision making. There is a belief that taxes are too much and that's why we are making efforts to reduce taxes and fare prices.
Togo is open to the 5th Freedom right. All airlines are free to fly into Togo. We don't give them problems. Some countries find it difficult to grant the 5th Freedom. What they are doing is wrong. When an airline wants to come to their country, they are afraid and they want to do protectionism. That's wrong. We are open. In Lome for instance, we now have 10 flights weekly to the United States of America and every airline wants to fly into Lome because we are open. We are even making efforts to reduce prices to enable people travel and do business. We are working together with AFCAC to implement SAATM because we are committed to it.
Q: SOME OTHER WEST AFRICAN COUNTRIES ARE STILL NOT COOPERATING ON SAATM IMPLEMENTATION. AS THE CHAMPION OF SAATM IMPLEMENTATION, WHAT ARE YOU DOING TO REACH OUT TO THEM TO GET THEM COMMITTED TO IT LIKE TOGO?
A: We are working together with the West African Economic and Monetary Union (UEMOA), Authorite's Africaines et Malgaches de l'Aviation Civile (AAMAC), Banjul Accord Group Aviation Safety Oversight Organization (BAGASOO) and Southern African Development Community (SADC) to sensitize them on the importance. We are discussing with them. Look at Africa. It is a big continent but air travelers are suffering because of high fares. Let us reduce prices. You know, Africa is the future of the aviation industry. We can work together. I heard the speech presented by Festus (Nigeria's Minister of Aviation & Aerospace Development). It's a good proposal. Let the African Union and AFCAC work together on the action plan and ensure implementation of SAATM. Imagine! After 24 years of signing the YD agreement, implementation has not been fast. On SAATM anyway, we started with 11 states. Now, we are 37 states. When my President was elected as Chairman, we were 21. Now, we are 37 and he is committed to bringing together all the 54 states to implement SAATM.
Q: AT THE BEGINNING OF THIS YEAR, YOU MUST HAVE SET SOME TARGETS TO BE MET FOR TOGO'S AVIATION INDUSTRY. WOULD YOU SAY YOU HAVE MET THE TARGETS YOU SET?
A: What we are doing now is to boost the traffic. In 2019, we had one million passengers. In 2022, we had 1.3 million passengers. At the end of this year, we expect to hit 1.5 million passengers. This is because security and safety is there. We are encouraging airlines and aviation companies to reduce air fares, prices and taxes. You know, Asky is our national carrier. It is doing well. Its traffic is increasing. It has opened the lines to Nairobi, Rwanda and Johannesburg. It covers 26 destinations daily. It started with four aircraft. Now, they have 15 aircraft. It is growing. AM