Support Aviation Training Initiatives For Young People, NCAA DG Tells Stakeholders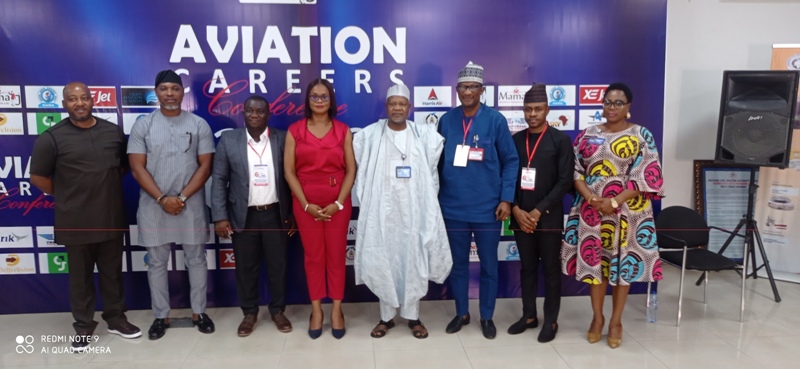 The Director General of Nigerian Civil Aviation Authority (NCAA), Capt. Musa Nuhu has urged stakeholders in Nigeria's aviation industry to support initiatives that can help training of young professionals in form of sponsorships and scholarships.
Nuhu made this appeal in Lagos yesterday while delivering a keynote speech at the 6th Xplore Aviation Careers Conference organized by Mamaj Aviation Consult Limited with the theme, "Inspiring The Next Generation Of Aviation Professionals Through Scholarship And Sponsorship."
Capt Nuhu, who was represented at the event by NCAA's Director of Human Resources, Wakili Adamu noted that with aircraft and airports becoming bigger, there was a growing demand for training of workforce as the sector now requires a large pool of sound professionals. He said there is no short cut to training and retraining of aviation personnel and that it has become important to pursue synergy in financing of such trainings.
In her welcome speech, the Managing Director of Mamaj Aviation Consult Limited, Joy Ogbebo said it had become necessary to start developing Nigeria's aviation industry by sustaining aviation development goals and giving attention to training.
"If we must have a better future, we must create it now," she said.
The event featured a Panel Discussion session moderated by Tony Ukachukwu, with the theme, Creating Sponsorship And Scholarship Opportunities For The Next Generation Of Aviation Professionals."
In his input, an aviation consultant, Mr. Abimbola Caulcrick informed that in the United States of America, student loans are available annually for 13 million students, each of who are entitled to US$12, 500 per year, as loans repayable for as long as a period of 24 years.
In Nigeria, some banks offer loans that are not even student loans and require repayment of sum of N10 million within a period of just four months.
In his contribution, the Director of Studies at Universal School of Aviation, Mr. Idris Onifade noted that his organization through the African Aviation Group and the Students Aviation Club offer 40 to 50 slots annaully for training of young aviation professionals. He declared that "20% of our students in Abuja are sponsored by politicians."
Another panelist, Mr. P. Uwaechie however, opined that individual sponsorship for young people aspiring to become aviation professionals is not sustainable. He suggested that NCAA should partner with Nigerian Social Insurance Trust Fund (NSITF) to pursue a bill that supports tax holidays for certain companies, agreeing with them, enabling and encouraging them to offer such trainings.
He also proposed that NCAA should develop a special trust fund for young people's aviation training sponsorships, sourcing financing from a percentage of revenues it generates from Ticket Sales Charge and other agencies' revenues. He however, noted that this could require amendment of the Civil Aviation Act.
Uwaechie also suggested that federal government should make provision for single digit interest rate loans for students payable over a long period of as long as 16 years.