One Of Nigeria's Bests Retires From FAAN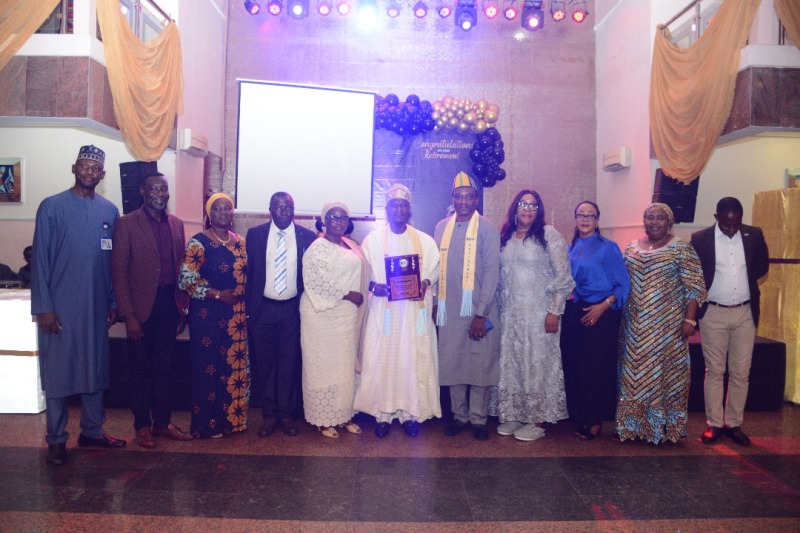 Mr. Nath McAbraham-Inajo, the General Manager, Safety Services, Federal Airports Authority of Nigeria (FAAN), who many have described as one of Nigeria's bests, has retired from service.
It was indeed a heartwarming and nostalgic day for staff of the FAAN and especially for those of Safety Department on Tuesday October 31th, 2023 as they bided farewell to Mr. Nath McAbraham-Inajo who many described as one of the best brains to serve the agency.
As early as 8.am, McAbraham's friends, relatives and admirers from within and outside the aviation industry had troop to his residence inside the FAAN quarters at the domestic wing of the Murtala Muhammed Airport where they accompanied him to the boardroom of the agency for his pullout parade.
The boardroom, which was filled to capacity according to the Managing Director of FAAN, Mr. Kabir Mohammed, was the testament of Abraham's impacts on FAAN staff and the legacy he left behind during his ten years of meritorious service to the airport management agency.
Various senior management staff who took turns to eulogize the Kogi state born Certified Management Consultant and Trainer described him as a teacher, coach, guidance, counsellor and an inspiration to staff at different cadres through his training methods and admonitions.
Speaking also, Acting General Manager, Safety department, Mrs. Mba Ifeoma said her former boss was a mentor, coach and counsellor to staff of FAAN affirming that he accomplished so much for the agency saying "worthy of note is his invaluable role in ensuring safety standards across our airports as GM Safety Services Department for three years. His giant strides in human development and capacity building in the organization and the aviation industry in general cannot be overemphasized."
She said "it is indeed an emotional moment for us as we converge here this morning to bid farewell to our much respected Boss who is retiring after 10 years of meritorious and dedicated service to this noble organization
His highly esteemed leadership qualities, devotion to service and contributions to the growth of our dear organization, especially the Safety Service department where he served until his retirement is exceptional and commendable"
Also, Assistant General Manager, Human Resources and Administration, Mrs. Rosemary Audu described the retiring GM as a professional who is adept at leaving a huge mark behind wherever he finds himself and said he would be missed by staff of the airport management agency.
At the reception organized by FAAN Safety department to honour McAbraham at the Ikeja GRA, a former Managing Director and Chief Executive Officer of the Nigerian Aviation Handling Company Plc (NAHCO Aviance), Mr. Idris Yakubu affirmed that the immediate past General Manager of the FAAN Safety department is a world renowned coach.
Yakubu added that as one of Nigeria's best trainers in different fields, the federal government must take advantage of his wealth of experience in improving the country's human capacity development.
The former Nahco MD, alongside others paid glowing tributes to the former FAAN GM, Training who they said is one of the top leading trainers in the aviation industry globally.
Yakubu said "as a Certified Management Trainer (CMD), a Certified Management Consultant (CIMC) and an International Airport Professional (IAP), having earned the highest global certification in airport management with over twenty years of training over 100, 000 professionals across all industries in both the Private and Public Sectors, developing the human capacity for the nation's growth will be easily achieved if we have the like of Abraham at the helms of affairs. He is a gift to Nigeria and the country cannot afford to let others take him away from us."
Those who graced the occasion also include church members, alumni of the University of Jos where Ac Abraham bagged his first degree, family and relatives as well business associates among others.
Responding to the avalanche of encomiums, McAbraham said he will continue to contribute his quota to the development of Nigeria in human capacity building whenever he is call upon and urged staff of FAAN to build upon and apply the knowledge acquired under his tutelage to the growth of the aviation sector.
SEE MORE PHOTOS