NDA 33rd Convocation: Onyema Bags Doctorate Degree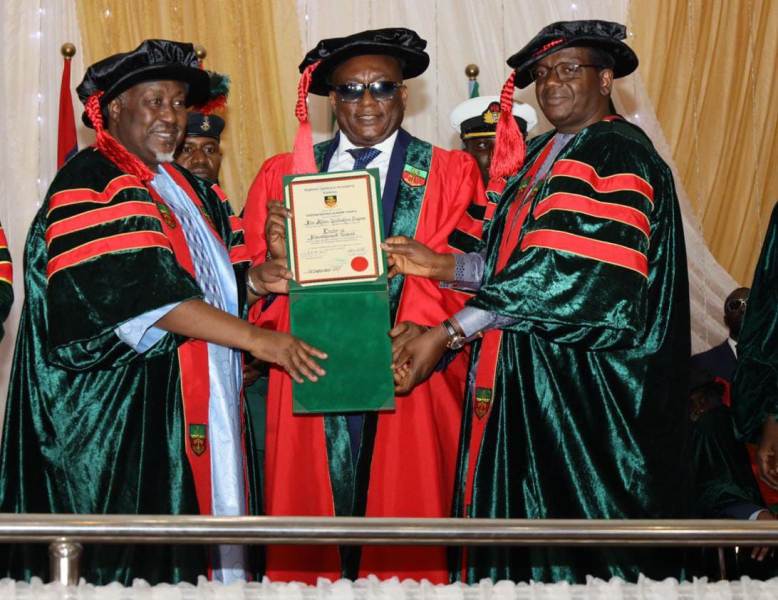 The Chairman of Air Peace, Barrister Allen Onyema, has been conferred with a Doctor of Management Science by the Nigerian Defence Academy, Kaduna.
Onyema received the honorary academic degree at the 33rd Convocation Ceremony of the Academy on September 28, 2023.
According to the Commandant of the institution, Major General JO Ochai, the Doctorate Degree is in recognition of Onyema's achievements in business, administration, education and outstanding service to the nation and humanity in general.
Ochai added: "It is against this backdrop that the Chief of Defence Staff approved your nomination for the award of Doctor of Management Science(Honoris Causa) at the Convocation Ceremony of Cadets of 70 Regular Course and postgraduate students".
In his acceptance speech, the Air Peace boss recounted how he wanted to attend the Academy after his secondary school education and expressed delight that he was being honoured with a Doctorate Degree by the same institution.
"I thank the Commandant and the Chairman of Council of NDA for bringing me back to 'my alma mater'. My joy knows no bounds. The call to serve your nation is a privilege. It is a thing of pride for you to be called to serve in the military. In the Nigerian army, you find true nationalism and I applaud the military for keeping the nation together and for their loyalty and valour. I believe in this country and I preach broad nationalism as against ethnic nationalism.
"I am profoundly grateful for this prestigious Doctorate Degree being conferred on me today. I am extremely appreciative for the honour and recognition. It gives me a huge sense of pride and responsibility.
"The Nigerian Defence Academy is a reputable institution and churns out high-quality, well-rounded military officers whose contemporary skills and knowledge are being deployed in defending the nation and contributing to the national development".
Congratulating the graduands as well as other honourees and charging them to be great ambassadors of the institution, Onyema urged the Management of the Academy to sustain the existing high standards and stay true to its vision of producing officers with broad-based training in both military and academic subjects designed to serve as a foundation for the future progressive development of officers of the Nigerian Armed forces.
The aviation cognoscente further pledged to continually use his airline and other enterprises to contribute to the socio-economic development of Nigeria. Also honoured with a Doctorate Degree is General Martin Luther Agwai(rtd).