MRO Investment: Egypt's Aviation Minister Invites Minister Keyamo For Cairo Visit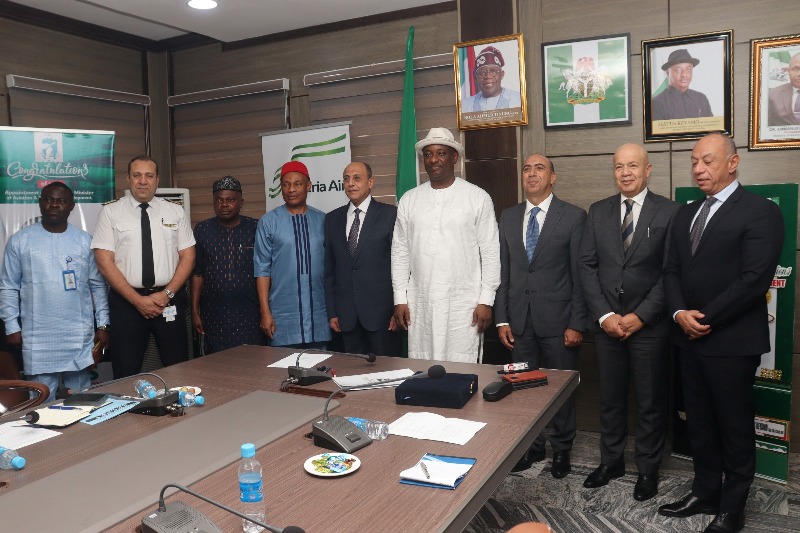 Egypt's Minister of Civil Aviation, Lt. Gen Mohammed Abbas Helmy (Rtd) today concluded his visit to Nigeria's Minister of Aviation and Aerospace Development, Barrister Festus Keyamo (SAN) and officials of his Ministry by offering an invitation to Keyamo and his team to Egypt for an exploratory visit in Cairo sometime in November this year.
A statement signed by Odutayo Oluseyi which disclosed this said the Egyptian Minister was received in Keyamo's office in Abuja where the Nigerian Minister reiterated government's interest in investment in the aviation sector saying Nigeria's arms are opened to investors.
While appreciating the Egyptian Civil Aviation team for their offers for Maintenance, Repairs and Overhaul (MRO) services and other technical supports to Nigeria's aviation sector, Keyamo said Nigeria government is keen on transforming the aviation industry by inviting innovative minds to help develop the sector. He alluded that Nigeria is an attractive country to invest in owing to her population and available market for all.
"Most of African countries have run into liquidity and is affecting the aviation sector also. Africa has a liquidity problem and it has affected aviation sector development in terms of infrastructure: terminals, runways and safety equipment," Keyamo noted.
In his remarks, Lt.Gen Helmy (Rtd) said that the ambition and aspirations of Egypt and Nigeria are similar and only through cooperation can the experience from both sides be put forward, noting that the civil aviation is one of the revenue generating income sources to National economy and that the Egyptian civil aviation is offering concessioning to run Nigerian airports, build airports in a manner that is sought by Nigeria through the private sector.
He added that the EgyptAir company owns an MRO that is dedicated to give the adequate support which can also be an area of cooperation between the two countries.