Lafenwa-Itele Road Project Is In 2022 Budget, Says Ogun State Commissioners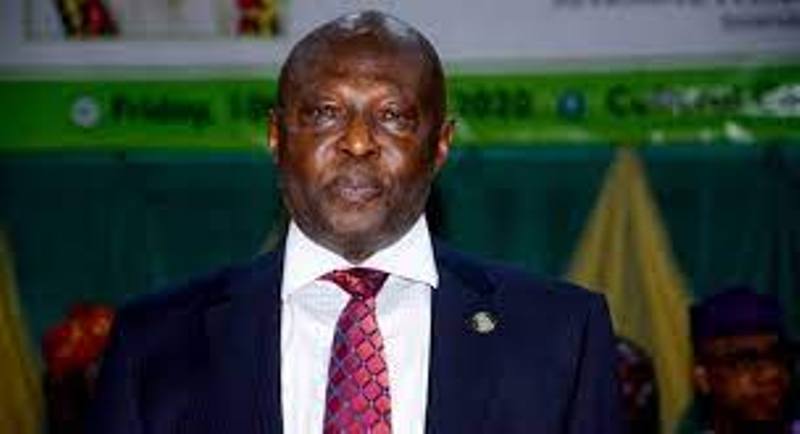 The Commissioner for Information & Strategy in Ogun State, Mr. Abdulwaheed Odusile has said that the budget for repairs of dilapidated Lafenwa-Itele road is part of the state government's approved budget for year 2022.
Odusile who declared this to Chiedualbinius.com during a telephone conversation in June 2022, stated that the road would be repaired this year. When asked whether residents of the area, who have been victims of tormenting impact of the road over the years should take this promise to town, he replied in the affirmative.
At the CHINET 2nd Aviation & Cargo Conference held September 7-8, 2022 at Marriot Hotel, Ikeja, Lagos, Chiedualbinius.com had an interview with the Ogun State Commissioner For Works & Infrastructure, Engr. Adebowale Akinsanya who confirmed that the project was part of the state government's approved budget for year 2022.
After Akinsanya tried to explain away the rationale behind prioritizing a cargo airport project in a state that has one of the worst road networks for farm produce rural-urban movement in the country, the following conversation ensued:
Chiedualbinius.com: Sir, how about Lafenwa-Itele road area? We have a lot of farmers around Olugbode, Itele and other surrounding communities. Are you not considering how they can convey their farm produce to Ota, Ayobo, Lagos and other markets? The roads are so bad. Is it not wise for government to work on the roads while thinking about airport that is not the farmer's current priority in terms of produce transportation?
AKINSANYA: I know the road very well. That particular road comes from Ota; Ota to Lafenwa; From Lafenwa to Itele, you get to Ayobo. It is one of the roads right now that His Excellency (the Governor) is really interested in. What we have done now is that the roads have been divided into four segments. The first segment is Ota which is connected to the first set of roads we did in the state, the Ikola-Navy raod. Taking off from there to Lafenwa is 5.8kilometres. Then, from Lafenwa to Ayobo in Lagos, a neighbouring state, I think its about 3.6 kilometres. These two are going to be re-awarded very soon. Then, phase three is from Lafenwa to Itele and Itele to Ayobo. Those will be next priority that comes in. All those are being addressed.
Chiedualbinius.com: How soon is soon? Because for years now, we have been hearing "it will soon be done…"
AKINSANYA: Keep in mind. It is not possible to do everything overnight. We look at everything possible. One of the things his Excellency did was to ask the people's representatives to give him their key roads. Those are the first ones we will start looking at. The first two roads that were done in the state were in Ota. But we cannot do everything overnight.
Implication of the above revelations is that if at the end of 2022, the Lafenwa-Itele road is not repaired, there will be a reason for residents of the area to raise queries under suspicion of funds diversion or embezzlement as the people have a right to know what could have happened to that approved budget.
It is important for the government and its officials to avoid a repeat of last year's street protests by residents over the terrible state of the roads and the human and material losses recorded as a result. Another protest may not be as "friendly" as the previous one.
Officers of the government that may be applauded when the road is repaired or held responsible if it is not repaired include:
1. Governor Dapo Abiodun, the Executive Governor of Ogun State
2. Engr. Adebowale Akinsanya, Commissioner For Works & Infrastructure, Ogun State
3. Honourable Abiodun Sherif Yusuf, Majority Leader and representative of Ado-Odo/Ota I constituency at Ogun State House of Assembly
4. Hon. Jimoh Ojugbele, representing Ado-Odo Ota Federal Constituency at the Federal House of Representatives, Abuja
5. Mr. Abdulwaheed Odusile, Ogun State Commissioner for Information & Strategy
It would be recalled that in October 2021, residents of Ayetoro, Binukonu, Lafenwa, Egbejoda and Itele-Awori communities in Ado-Odo Ota Local Government Area (LGA) of Ogun State marched through the streets in their area calling on State Governor Dapo Abiodun and the Federal Government to fix their dilapidated roads.
While displaying different placards and singing solidarity songs, residents complained that they had endured years of neglect by successive governments.
The Vice Chairman of Ado-Odo Ota Zonal Community Development Committee (CDC), Prince Olatunji Olaonapo, said that the affected communities spend at least N4 million in 2019 and N8 million in 2020 to provide palliatives on the roads. He stated that the roads had been neglected by Ogun State Government over the last 10 years. The deplorable roads linking Ayobo in Lagos State and Ota in Ogun spread across Itele, Ayetoro, Binukonu and Egbejoda, spanning over 40 kilometres.
Most of the roads have dividend into various points, as there are no well-constructed gutters to contain the heavy flood. Most of our residents had to abandoned their homes for Lagos, as erosion from the heavy floods have had their houses submerged.
"In the past, we have written several letters to the authorities to come to our aid. Up till this moment, no presence of any of the governments has been felt concerning our roads.
We pay our Value Added Tax (VAT) and levies regularly. Yet, we get nothing in return. Many people have sustained injuries on commercial motorcycles that ply the bad routes. Many landlords have put up their houses for sale due to the sufferings that we are passing through. It is sad that despite what the government is generating from our area, we are left to continue to suffer this level of hardship," he said.
Some residents who reeled out what they have suffered on the road said some pregnant women have had miscarriages while many other health hazards resulting from plying the dilapidated Lafenwa-Itele road have been recorded.