IAC To Produce Globally Competitive Pilots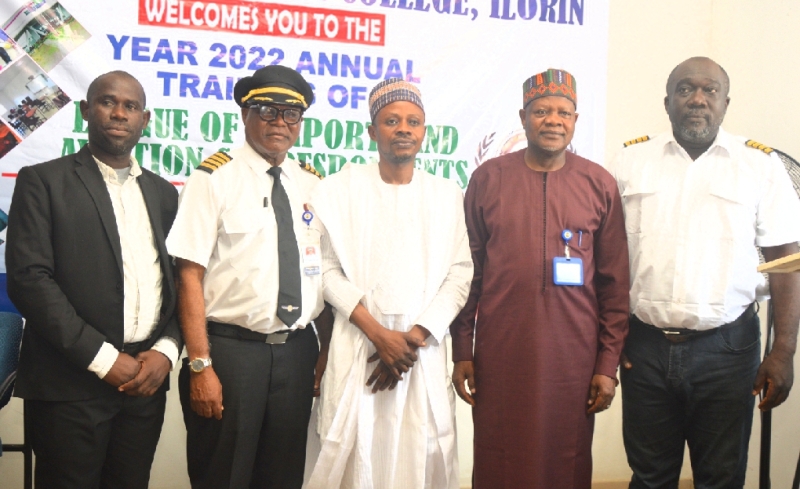 The Rector of International Aviation College (IAC), Ilorin, Capt. Yakubu Okadahi says the college aims at producing pilots that can compete favourably anywhere in the world.
Delivering his welcome speech at the opening ceremony of the League of Airports & Aviation Correspondents (LAAC) Training Programme held at International Aviation College (IAC), Ilorin, Okadahi, a pilot of repute with over 26,000 flying hours' record, said IAC is the only indigenous training institution for pilots in Nigeria. He enjoined reporters to ensure accuracy in reporting so as not to scare air passengers from travelling by air.
In his remarks, the Executive Governor of Kwara State, Abdulrahman Abdulrazaq who was represented at the event by the Commissioner for Tertiary Education, Dr. Afeez Abolore Alabi described the aviation sector as a capital intensive one which ought to be a booster to the economy of the country, but is yet to attain this expectation due to issues of policy thrust not being strictly followed and other constraints.
"We all need to come together to form a synergy to take the industry to the next level," he said, adding that IAC already has approvals to acquire some equipments and is currently discussing with the Civil Aviation to ensure that the objectives of the college are achieved.
Speaking at the programme, the Director General of Civil Aviation in Nigeria, Capt Musa Nuhu, who was represented by his Director of Human Resources, Mr. Wakili Adamu applauded LAAC "for their concerted and consistent efforts at providing robust reportage and professional coverage of every development in the industry, which has aided the growth and development of the aviation industry in Nigeria," adding that "as we all know, aviation is global as it is dynamic. To keep abreast of latest developments, innovation and trends in the ever changing sector therefore, continued human capacity development to keep abreast with the industry dynamism needs not be overemphasized. This explains and underlines why continuous human capacity development is and has been one of my administration's cardinal principles."
"You will agree with me that it is a statement of fact, that the media is critical to the growth of global aviation in general and Nigeria in particular. The press is the fourth Estate of the Realm and hence, can be convincingly referred to as the educator, enlightner, informer and indeed, making things known to the public. This reference was derived from both explicit capacity of advocacy and implicit ability to report issues. You have been with us in this journey and you have been worthy partners in progress and Nigeria's aviation success story will be incomplete without your valuable contributions.
One of such contributions is the LAAC annual conference which has provided, and is still providing veritable platform over the years for stakeholders to converge, discuss, brainstorm and dissect pertinent contemporary aviation issues with a view to proffering workable solutions that will move the industry forward. In my opinion, this training is an indication of the spirit of partnership that has existed (still existing) between NCAA and LAAC. The media and particularly LAAC has provided a platform which has helped in projecting the activities and laudable achievements of the NCAA to the public vis-à-vis our oversight functions, Your day-to-day reportage has shown that most of you have deep knowledge of aviation activities. Please keep it up. I encourage you all to uphold at all times the ethical principles of journalism like accuracy, courage, objectivity, transparency and non-partisanship," stated Nuhu.
In his speech, the Chairman of LAAC, Mr. Olusegun Koiki expressed gratitude to the managements of all the aviation agencies in the country, especially the NCAA, FAAN, NSIB, NCAT and NAMA for their contributions towards the success and sustenance of this yearly programme over the years, stating that "the volume of knowledge garnered from the trainings under this programme has significantly helped us as aviation media practitioners and journalists to disseminate aviation information more accurately and professionally amidst technological advancements in application of safety, security, economics and regulation of the sector."
"Though, International Aviation College, Ilorin claimed to offer about eight courses, which include; Private Pilot License (for airplane), Private Pilot License (for helicopter), Commercial Pilot Licence (for airplane), Commercial Pilot License (for helicopter), Flight Dispatcher Course, Instrument Ratings, Multi-Engine Rating And Night-Rating, the college is largely unpopular among aviation journalists, not just in Nigeria, but across the continent. The college could be likened to a young man winking at a girl in the dark. Only him knows what he does, but the girl and others don't know he exists. The college lacks publicity or mention in the media, despite the issuance of commercial pilot training certificate to it by NCAA in 2011, which is about 12 years ago. The absence of its media mention is however, affecting its growth albeit negatively as its potential students are attracted by other similar institutions, not just in Nigeria, but also across the sub-region.
The management needs to tighten its seatbelt and be more competitive. The college may have been funded by the State Government, but as a specialized aviation training institution, it should not be treated as an appendage of the Kwara State Civil Service. It requires the input of topnotch professionals in all segments of aviation industry for it to remain relevant and be on the right track in the sub-sector. There is the need for the state government to take a serious look at the college and give it the appropriate attention and maximum support it deserves. This will make it competitive and more productive among it's peers in the industry.
The year 2023 is still relatively young and it provides another opportunity for the college to make progress as regards its activities. LAAC, the only aviation journalists' body in Nigeria is willing to partner with the college in order to increase its market share in aviation training in the country and beyond. LAAC as I earlier said, is an association of aviation journalists that has been in existence for over 40 years. We can use our wealth of experience in aviation reportage and training to sell the International Aviation College to the outside world. You can also tap into the opportunities offered by our annual conference, which holds every month of July to further enhance your activities and partner with the league. We have done it for your competitor. We can do same and more for you, too. Ilorin should not continue to be a local champion, but its prowess should be shown to the entire globe," said Koiki.
This is the first time that LAAC has decided to embark on this industry course at IAC, which trains majorly, pilots and flight dispatchers and has a fleet of six Diamond aircraft, three of which are currently serviceable. About N300million is required to get additional two aircraft serviceable and one of the engines costs about 50,000 euros.