Green Africa Celebrates First Anniversary Of gFuture Initiative, Graduates 12 gTalents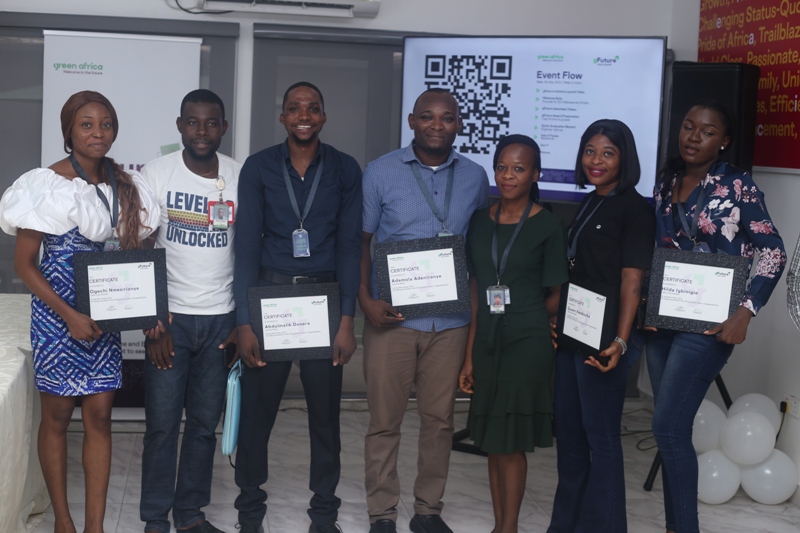 Green Africa has on May 9th, 2023, celebrated the graduation of 12 gTalents who participated in the company's gFuture Initiative.
This initiative, launched in 2022, aims to train a total of 1,440 aviation professionals across different disciplines over the next decade. At the 1st anniversary ceremony held at the company's head office in Lagos, four cabin crew members, five second officers, one airport service personnel, and two commercial gTalents were honoured for their successful completion of the program.
In his opening remarks, Babawande Afolabi, the Founder and CEO of Green Africa, said, 'We announced our plans last year to train talents over the next decade across different aviation disciplines. The journey of a thousand steps starts with the first and today, we are delighted to celebrate the first year of that journey with the graduation of twelve new gTalents."
He continued, "Everyone in the cohort came in abinitio and got the opportunity to start building their careers. We are committed to the gFuture Initiative being a signature training platform not only for Green Africa but also a unique example to other players in the region that we need to take a long-term consistent approach to training talents."
The special guest at the event, Engr. Kayode Ajiboye, retired Chairman of the Flight Safety Group & Director of Airworthiness, NCAA, in his keynote address, commended Green Africa for the structured initiative as Nigeria Airways was the last airline known to have done such a structured training programme. Engr. Ajiboye congratulated the graduates and encouraged them to be tenacious, have positive work ethics, and be committed to excellence in their various disciplines.
The celebration of the 1st anniversary of Green Africa's gFuture Initiative and the graduation of 12 gTalents is a testament to the company's commitment to building a robust talent pool in the aviation industry.