Finglow Group, Virgin Atlantic Raise Awareness On Breast Cancer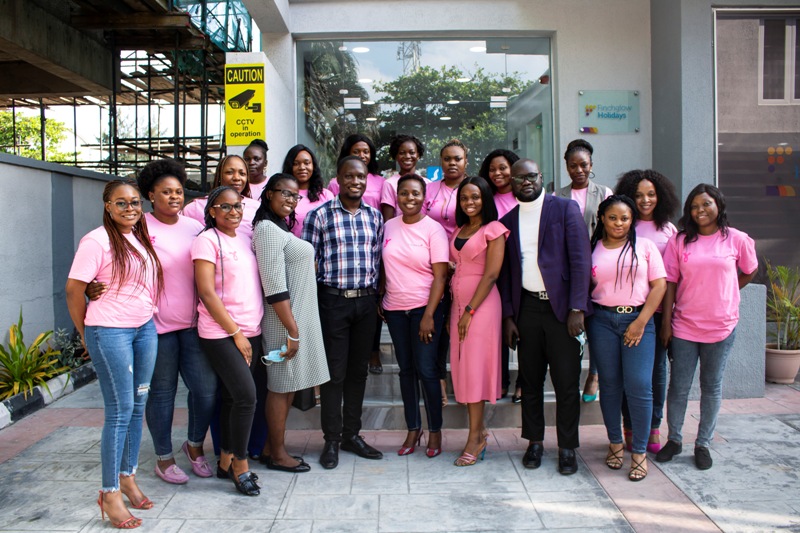 To mark Breast Cancer Awareness Month, Finchglow Group in collaboration with Virgin Atlantic Airline have recently sensitized female employees of Finchglow Group on Breast Cancer.
The event had representatives of GreenBay, Finchglow Group's official Health Maintenance Organization (HMO) partner who spoke extensively on the risk factors, causes and ways to prevent breast cancer.
Mr Bankole Bernard, the Managing Director of Finchglow Group who spoke through Ms Adejoju Sikuade, Country Manager, FCM Nigeria – a subsidiary of Finchglow Group, said: "We are dedicated to raising awareness for breast cancer. This month is a reminder of the challenges that women all over the world have had to face. We believe that self-awareness saves lives, hence our reason for doing this. To also show our commitment to this movement, we have decided to have this sensitization programme on a quarterly basis."
Dr Laguda Idris, the Lead Speaker from the GreenBay delegate in the course of his lecture noted that breast cancer is the most common type of cancer all over the world. In his words: "Cancer generally starts with a single cell that divides rapidly or faster than any other which later becomes a tumour. There are so many women out there who are ignorant of the risk factors and causes of breast cancer and that is why we are delighted to work with Finchglow Group in making this sensitization program a reality."
Breast cancer is currently the most common type of cancer worldwide, with 2.26 million cases recorded in 2020 (WHO, 2021). It is also the most common cancer among women both in developed and developing countries, and a major cause for public health concern (WHO, 2021).
Virgin Atlantic's Representative at the event, Modupe Femi Ogundele expressed the airline's commitment to sensitizing women on breast cancer all over the world. She also gave kudos to Finchglow Group as a whole for allowing the initiative to fly.
Finchglow Group is the holding company for Finchglow Travels, Lagos Aviation Academy, FCM Travel Solutions, Travelden, Finchglow Holidays and Prysm Investment Limited.