Aviation Book Launch Re-launches Discussion Of Industry Issues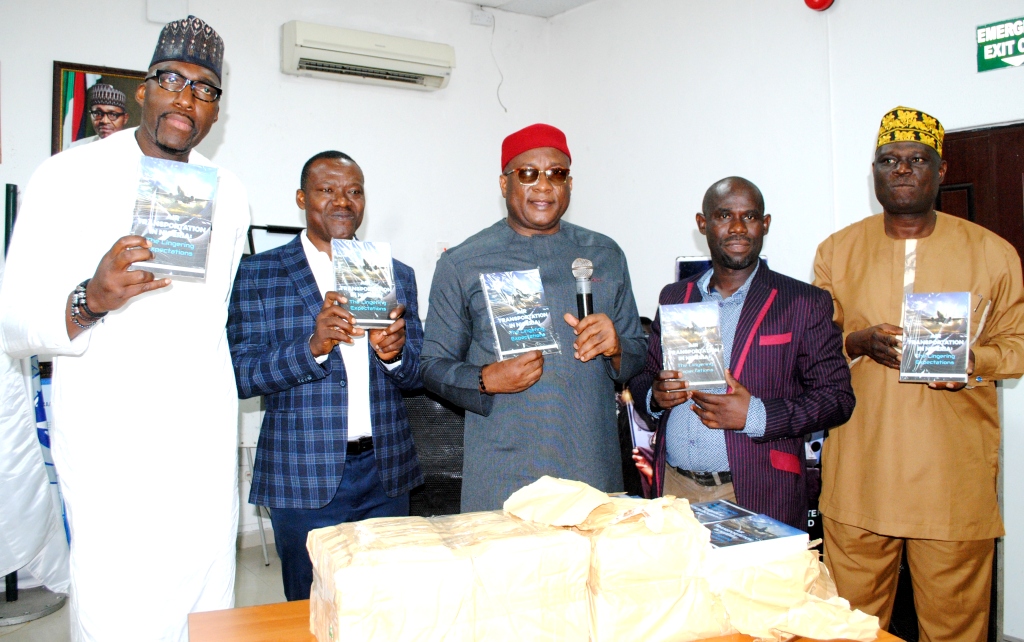 Discussions on some challenging issues that have lingered in Nigeria's aviation industry for decades were reopened yesterday in Lagos by stakeholders present at the launch of a book titled AIR TRANSPORTATION IN NIGERIA: The Lingering Expectations.
The book was co-authored by Chinedu Eze of ThisDay Newspapers and Olusegun Koiki of Daily Independent Newspapers.
Chairman of Air Peace, who was Chief Launcher at the event, Barrister Allen Onyema posited that owners of airlines in Nigeria are the most patriotic set of citizens, considering the unfavourable operating environment where they are.
"Airline owners are people who succeeded in other businesses before they came to aviation. Why do they fail in aviation?," he asked.
"It is not easy to succeed in an environment where you borrow at 26% interest rate," he said, identifying lack of infrastructure and policy summersault as some of the constraints of the airline operators.
Onyema cited an instance of Abuja airport where 10 domestic airlines operate from a little space with two counters each. He said there is no way there won't be flight delays under such situation, stating that 95% of the problems associated with flight delays and other challenges are not caused by the airlines, contrary to what the flying public has been made to believe.
The book, AIR TRANSPORTATION IN NIGERIA: The Lingering Expectations has 16 chapters, 333 pages, recounting the journey of Nigeria's aviation industry since the memorable first flight into Kano in the 1940s and the lingering expectations over the years as regards policy formulation, summersaults, airlines and airports experiences, Asset Management Corporation of Nigeria (AMCON) intervention in the industry, Covid19 experiences and impact on the industry, among other issues.
Onyema described it as a book that should be recommended for everybody in the aviation industry.
The book Reviewer and General Manager, Public Affairs, Nigerian Safety Investigation Board (NSIB), Mr. Tunji Oketumbi commended the efforts of the authors, who he said had done what he did not do in his days as an aviation reporter.
Analyzing the book chapter by chapter, he said it was a good research material, even though in the chronicle of events and managers of the sector, Mr. Peter Igbinedion, former Managing Director of Nigeria Airports Authority (NAA) and his contributions to the sector's development were omitted. He however, recommended the book for everyone in the industry.
In his remarks, the Director General of Nigerian Civil Aviation Authority (NCAA), Capt. Musa Nuhu, who was represented at the event by Engr. Taieb Odunowo noted the policy constraint issues related to airspace, aerodrome and other segments profiled by the book. He said the aviation authorities were already putting measures in place in form of a masterplan. He said the industry masterplan is being designed with legal backing in such a way that any Minister that takes over leadership of the industry will have to comply with it. He said this would help to address the challenges of policy summersaults.
Some other dignitaries present at the book launch were Chief Arumeni Johnson-Ikhide, Chairman of Arik Air Limited, Mr. Chris Ndulue, former Managing Director of Arik Air, Mr. Basil Agboarunmi, Managing Director of Skyway Aviation Handling Company (SACHO Plc), The Chief Operating Officer of Green Africa, Mr. Obi Mbanuzo, The General Manager, Public Relations, NCAA, Mr. Sam Adurogboye, and others.