365 Days Of Prof Matazu's Transformation @NiMet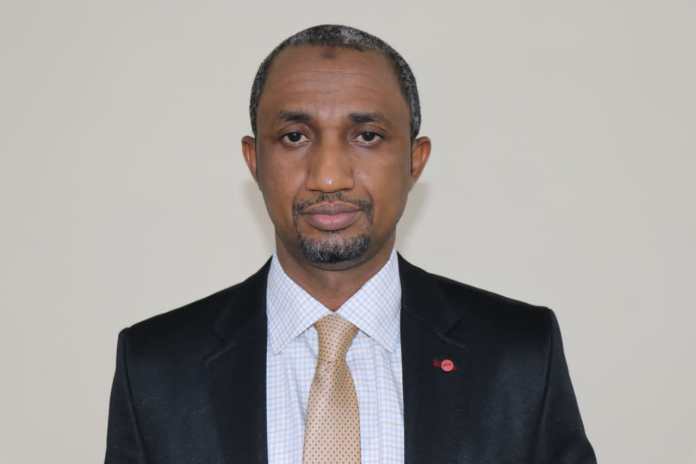 The Nation's aviation industry, on the 15th March, 2021 received the appointment of Prof Mansur Bako Matazu as the Director General, Nigerian Meteorological Agency (NiMet) with great expectations.
The reason for their anticipation in this regard was hinged for two main reasons. First was the fact that, Prof Matazu has been in the system for many years. He was, until his appointment, the General Manager, Meteorological Research in the Agency. Secondly was Matazu's track records in his previous places of service, both in the agency and in the academic world.
A Good Beginning
Barely one month, he was made the DG NiMet, Prof. Mansur Bako Matazu, was appointed the Permanent Representative of Nigeria to the World Meteorological Organisation, (WMO) on the 13th April, 2021.
Since his assumption of office, he has brought about lots of positive changes in the agency, thereby, repositioning as a more efficient, effective, and leader in all areas of Meteorology in Nigeria and beyond.
For instance, under Prof Matazu's watch, NiMet has demonstrated adequate commitment to improving infrastructure and equipment for weather observation and forecasting,a situation that has brought in accurate and dependable weather prediction.
Since the resumption of office, Prof. Mansur Bako Matazu has improve its leadership role through the provision of voluntary initiatives as part of its overall mandate.The agency has also been playing an integral role in the development of Meteorology in West Africa, including: Liberia, Sierra Leone , Gambia and Malawi etc.
Few months after he took over the mantle of office, NiMet under Prof Matazu upgraded pilot briefing rooms in Lagos and Abuja. With the upgrade, the agency will now conveniently organise stakeholders' interaction with airline operators.
In addition, the agency has concluded arrangements to deploy what they call runway visual range, an additional aid vision machine along the runway that can allow aircraft to land and takeoff even at weather minimal level which is about 300 meters.
Projects:
Between 2021 till date, since Prof Matazu was appointed as NiMet DG, the agency has successfully embarked on several projects.
Some of the projects already completed include: refurbishment and upgrade of the Pilot Briefing Room at Nnamdi Azikiwe International Airport (NAIA), Abuja; renovation of NiMet Administrative Office Building/Security Office At Birnin Kebbi and Synoptic/Office at Yelwa, Kebbi State; Emergency Procurement and Installation of Close Circuit Television (CCTV) Camera's at NiMet Headquarters Abuja; contract for construction of Climate Change Modality Centre at Metrological Institute of Technology, Katsina (20% completed) ; contract for construction of NiMet Zonal Office at Gwagwalada (70% completed) and contract for Construction of NiMet Zonal Office at Ibadan (20% completed) .
Also it was during Prof Matazu that the Operational Study and Conduct of Status Audit and Gap Analysis on Aeronautical Met Operations was achieved in 10 Airports. This is in addition to rehabilitation of NiMet Headquarters Main Reception, Conference Room, Central Forecast Office and DG's Visitors Room (75% completed); refurbishment of Meteo Station Building at NiMet North West Zonal Office, Kano; renovation of NiMet Building at former Synoptic Station Gombe, Gombe State and rehabilitation of Two Units One Bedroom Apartment at NiMet's Staff Housing, FAAN Quarters, Kaduna.
Others are: rehabilitation of NiMet's Two Bedroom Flat (C2/2) at Phase 1, Aviation Quarters, Off Airport Road, Kano; Emergency Construction of Reinforced Concrete Retaining Wall for The Protection of LLWAS Site 7 against Gully Erosion at Yola, Adamawa State and renovation of Students Hostels at Regional Training Centre Oshodi, Lagos State
Partnerships:
As soon as Matazu resumed work, the agency reviewed all existing Memorandum of Understandings (MoUs), while establishing new partnerships
So far, NiMet has signed a Memorandum of Understanding (MoU) with Earhworks. The partnership involved the deployment of Thunder and Lightning detectors at ten locations across Nigeria.
The agency is equally in partnership with Nigeria Maritime Administration and Safety Agency (NIMASA)and has started providing services to the industry through NIMASA as it lent its support during official flag off to their removal of wreck along Badagry Creeks.
Already, the Meteorological Agency Agency has planned and began executing projects in the marine sector that will cost over N2 billion over the next two years
NiMet under Prof Matazu also signed a Memorandum of Understanding with the Asaba Airport Company (AAC), the new concessionaire of Asaba Airport
In addition, the agency recently signed a Memorandum of Understanding with the Federal Ministry of Agriculture & Rural Development, (FMA&RD) , on the provision of Automatic Weather Stations, (AWS) in ten states in Nigeria.
There is also an MoU with University of Agriculture, ABU Zaria, Bayero University Kano and University of Ibadan and others
It has also built robust relationship with other meteorological and observing sister Agencies like Nigerian Hydrological Agency (NIHSA), Nigerian Emergency Management Agency (NEMA), National Space Research and Development Agency (NASDRA) etc.
Upgrade of Observational Infrastructure
During the period under review NiMet was able to create a task team to undertake assessment of their observational infrastructure nationwide.
The team's terms of of reference include: to monitor and evaluate the status of equipment nationwide; carry out maintenance and/or servicing of observation equipment; and improvement of communication with partner institution on the status of instruments, consistent data generation and exchange. Such initiative has helped in no little measure to increase the efficiency of the operations of NiMet.
Speaking on some of the achievements in just one year, Prof Matazu said that under his leadership, NIMET came up with policy thrust based on the full enabling critical elements that are the enablers that could help the agency function.
Other areas, he has taken to the next level is in the areas of observation and infrastructure upgrade, dissemination outreach limitation and communication with the users.
Based on this, Matazu said the agency had set up a policy thrust of about eight point agenda including improving government and institutional settings.
The DG said "so, with this, we are overhauling the whole administrative, structural setting of the organisation to be business-like, just like the private sector driven agency that will be result-based, efficient with institutional framework, infrastructure upgrades, especially as it relates to weather monitoring and observation infrastructure".
SCP Delivery:
On the 15th of February, 2022, the Nigerian Meteorological Agency (NiMet) presented the 2022 Seasonal Climate Prediction (SCP) at the Nigerian Air Force (NAF) Centre in Abuja, Federal Capital Territory.
The SCP contains vital information on: onset and cessation dates of the cropping season, length of the growing period, rainfall amount, temperature forecasts for the hot season (January to April) and dry spell and little dry season. It also contains information that has to do with malaria and meningitis vigilance, and socio economic implications of the prediction.
Speaking during his keynote address, the Minister of Aviation, Senator Hadi Sirika who unveiled the 2022 SCP, commended NiMet for the diligence put in place continuously to bring to Nigerians weather and climatological forecasts touching on different areas of their socio-economic lives in accordance with its mandate.
In the same vein, former DG of NiMet, Dr Anthony Anuforom also commended the agency, saying that NiMet came to limelight when the minister of information gave a directive to national radio and television stations to broadcast NiMet's daily predictions.
Anuforom expressed joy that NiMet has maintained its vibrancy especially under the present management of Prof Matazu.
Labour
On assumption, he met with various union officials in the agency in a bid to cement the hitherto unfriendly relationship between labour and the management where he assured of rewarding hardwork
From the labour angle of accessment of his one year in office, the Doyen of Nigeria's aviation labour, Comrade Abdulrasaq Saidu said, NiMet has never had it so good with various innovations of expansion introduced by Prof Matazu in the past 12 months
Saidu, who is also the General Secretary of Association Nigeria Aviation Professionals noted that Matazu within the short period embarked on scope expansion in a bid to raise its Internally Generated Revenue by signing various MoU's with different agencies to give workers sense of belonging by getting more funds for manpower training and upliftment of the Agency in order to remove it from the IPPMF
He called on the management team of NiMet to continue to work together with the DG in order achieve greater success in the near future
Challenges;
Although, the Federal government has been trying her best to ensure the funding of the Agency. However, funding has remained one of the major challenges for the agency to do more than what it is doing presently. Apart from the rapidly changing climatic conditions through global warming, another challenge is the issue of human capital.
As the DG puts it, he said that
"At the peak of the COVID – 19 challenge we were able to down scale our seasonal climate production to more than twenty states via virtual workshops for stakeholders. So, in a nut shell , we are not short staffed. But our services it is expanding and the expansion will require in the nearest future the need of having additional staff, then from the Nigerian citizens.